If we want to change the larger culture, we have to start supporting other parents.
Not too long after we moved back to Texas, I was inside making dinner when I heard a knock at the door.
I opened it to discover a usually friendly-faced neighbor, who did not look friendly-faced at all.
Instead, she scowled when I opened the door, pointed a finger back at my two kids (7 and 9), who had been playing happily in the front yard and were now watching curiously.
"Did you know that your kids are outside alone?" she asked in a furious tone.
"Uh, yeah," I said. "I told them to go out and play. I can see them from the window."
She shook her head theatrically. "It doesn't matter that you can see them from the window. How would that help if someone kidnapped them? Do you know that anyone could stop and grab them in two seconds? These are dangerous times! It's against the law to leave your kids outside alone!"
I sighed and shook my head. "No, it's not against the law. I know, I checked. It's perfectly legal to let your children play in the front or back yard. And these actually aren't dangerous times … the incidence of child abduction is significantly lower now than it was in 1970, and no one even knew where their kids were in the '70s."
She stared at me, aghast. "I can't believe you would use statistics to justify bad parenting," she snapped, before turning on her heel and walking away.
If you're not a parent of young children, you might be wondering why I was prepared with statistics about the incidence of child abduction. If you are a parent of young children, you doubtless have these same statistics at the ready.
The truth is, the culture of parent-shaming has become a ubiquitous and toxic phenomenon that has rendered much of normal childhood behavior — essential for child growth and development — obsolete, or risky at best.
Walking to school, for example, which was the norm for kids growing up a few decades ago, is now considered so dangerous that parents can literally be taken to jail for allowing it. Ditto for playing outside unsupervised — even in a fenced-in yard.
But this toxic culture didn't spring from nothing, and it didn't start with the big things — the viral videos of parents leaving kids in cars for a few seconds and the rapid willingness to call CPS at the sight of a child alone, anywhere, all grew from the insidious culture of parent shaming.
It starts small, like shaming a parent for feeding kids sugar or letting them watch Bubble Guppies. And it usually doesn't come from non-parents — we parents tend to do this to each other. Heck, there's a whole parody Facebook page called Sanctimommydedicated to memorializing all the ways mothers shame each other, in person and on social media.
If we want to change the large culture of parent-shaming, the one that won't let you send your child outside to fetch the mail or play with the puppy, we need to start small. We need to start changing the way we treat each other, and remember that most parents are just doing the very best they can for their kids.
Let's stop shaming and start supporting. It takes a village, so let's be one.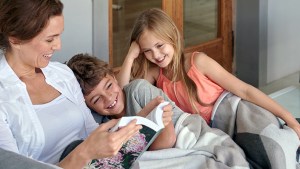 Read more:
How to raise your kids like a happy, "hygge" Danish parent