The search for a great name can be enjoyable with these tips and resources.
What's in a name? A lot, as it turns out.
Naming a child is a big deal. It's an exciting task, but can also be fraught with anxiety. Which name is right? How in the world do you come up with the right one when there are so many options?
Lots of parents like the surprise of finding out if they're having a boy or girl on the day of the birth, which I totally understand. I'm impatient, though, and like to schedule the surprise earlier. We find out the sex of our baby as soon as we can so we can choose a name and begin to use it, which helps us build emotional intimacy.
It doesn't stop there, though. As our children have grown, they've also grown into their names, and now when I hear their names, floods of memories and happy thoughts are connected with those names. It's no longer simply a word, it represents a living, breathing human being that we love dearly.
It's hard to explain, but the names of our children now simply fit. Each child has become forever entwined with his or her name. Choosing a name is like exploring the world and searching for that one, perfect gift to share with your child. The name is in the power of the parents to bestow, but it is such a joy to watch our children make their names their own.
As you can see, I take joy in overthinking things, so I always do a deep dive and nerd out on baby-name research. There are so many names out there it's hard to know where to start, so in order to give structure to the search, my wife and I have a few criteria we use to keep us on track. They don't always all get met, and that's okay because the point isn't to stress out but to enjoy the search for the perfect name.
I love the stories and different ways by which parents name their children, so this certainly isn't the only way, but hopefully these criteria that my wife and I use can be helpful as you discover the perfect name for your own child …
A spiritual meaning
A lot of names today are entirely new. They may be combinations of two other names, unique spellings that update traditional names, or even names like Lyric or Apple that typically wouldn't have been used in the past. The creativity is really amazing to witness. I will say, though, that for us it's important that there be a spiritual meaning to the name. That can definitely be done with entirely new names, but we tend to prefer saints' names because of the rich meaning that comes along with them. Life is a grand adventure and we want our children to set out on their path with a spiritual guide.
Honor the family history
I especially love naming sons after their fathers and grandfathers, and it's also nice to keep those beautiful girl names in the family. Not only does it honor earlier generations to pass on family names, but it also promotes family unity and pride.
Match the style of the other children's names
A lot of siblings have a thematic link to their names. For instance, sharing the same first letter of their names is common, or maybe all the boys are named after popes, or it could be as simple as finding a style of name that matches well. For us, because our last name is French, we prefer broadly European names and, more specifically, French names. This can be as easy as choosing a name we like and then identifying the French spelling or starting our search with French saints. When names match in style they flow well together. There are lots of style guides, but one we love is Sancta Nomina.
Unique, but not embarrassing
We all want our children to stand out in a crowd. Each child is unique, so it only makes sense to want a unique name. It's a balancing act, though, because we don't want our children to be embarrassed or hate their names later in life. When I want to get adventurous, I've suggested to my wife a more daring middle name matched with a more conventional first name. The overall name ends up being unique, but if my children don't like the obscure saint's name I've given them in the middle, they aren't stuck using it constantly.
Whatever name you come up with for your child, trust me when I say that child almost certainly grow into the name and it will be just perfect.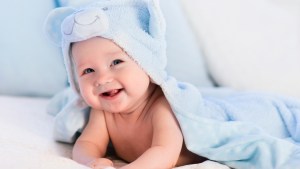 Read more:
17 Classic baby names inspired by saints who witnessed to God's mercy