A lesson in individuality straight from the heart and example of Mary.
What can God do in your life with one Bible verse a day?
Subscribe to Aleteia's new service and bring Scripture into your morning:
Just one verse each day.
Click to bring God's word to your inbox
I used to wear bow ties before they were cool. People were fine with it, and I'm not exactly a hero for bringing prep back, but my clothing was the first topic of conversation whenever I walked into a room — and it got kind of old.
Bow ties became popular a few years ago and now I see middle schoolers proudly wearing them. Even so, I don't dress quite so outlandishly preppy anymore. The belt with little whales on it and the Nantucket-red trousers are not as prominent in my wardrobe these days. Not because I don't like them, but because I got tired of clothes as the focal point of conversation. It's easier to look like everyone else. There's definitely a social price to pay for being different.
How many of us go through the day pretending to be like everyone else, when, in fact, we know that underneath the façade lurks a unique, fascinating, delightfully odd personality?
The subtle, inescapable pressure to conform is even more challenging when it affects essential aspects of life. Franz Jagerstatter, who was the only man to resist the Nazis when they entered his village, never conformed. It would have been easier — understandable, even — if he had, but he refused to betray his values. Eventually, he paid the ultimate price.
We don't live in quite so harrowing a situation, but there's still pressure to be like everybody else. That pressure runs the gamut — from our political choices to the television shows and music we like to the way it's socially acceptable to ignore the poor and vulnerable. Standing apart can be immensely difficult, but there are people we can turn to for encouragement and inspiration.
We often see depictions of Mary, the mother of Jesus, a beloved woman around the world. When we gaze at her many images, it's easy to forget that she was a dedicated nonconformist who probably raised some eyebrows in her day. She gave birth to a child of mysterious conception and her fiancé almost cancelled their engagement because of it. She remained a virgin at a time when the more children a woman had, the more successful she was considered to be.
Mary broke the mold her entire life. Often described as a Rose of Sharon or a Lily of the Valley, she was like a flower in the desert and her example has continued to challenge conformity.
December 12 is the anniversary of her appearance to a Mexican peasant named Juan Diego, back in 1531. She called him to a desert hilltop in the winter where only mesquite bushes and cactus grew, and gave him a miraculous sign of blooming flowers. The final gift she left was the famous image of Our Lady of Guadalupe, which changed the course of history in Mexico and continues to shape it today. Not only do streams of pilgrims visit the spot where the Virgin of Guadalupe first appeared, but the image is deeply ingrained in pop culture and can be found on t-shirts, graffiti, and even tattoos. The flowers Juan Diego finds blooming in winter are Mary's way of helping us to understand that, with God's help, flowers bloom in the most unlikely of metaphorical places, even today as we struggle to assert our identity in a world that pressures us to conform.
The blossoming of our unique identities is something we all have within us if we're courageous enough to let it happen. In the story of Our Lady of Guadalupe, Mary chose a powerless, humble farmer to help her share an important message with the world. It had to be Juan Diego who revealed the image, and no one else. In the story of Christmas, it had to beMary who became the mother of Jesus. Nobody else would do.
In our own lives, even if they seem barren like a desert at times, each of us has a role to play that only we can play, a particular gift we can give to the world. No one else can do it. It might be as simple as raising your children, being faithful to your spouse, being kind and gentle when no one expects it, or taking your spiritual life seriously when others think it's a waste of time. The goodness you have to offer is yours alone. In my story it has to be me and in your story it has to be you. If we choose to accept the invitation to be who we're meant to be, we can change the world.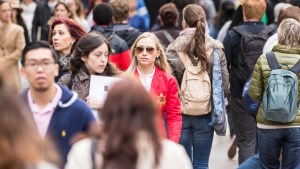 Read more:
Is it time to embrace being average?