How to maximize those 20 minutes so you're refreshed and recharged.
Have you ever felt that unbearable fatigue of the early afternoon, the lethargy that saps all your energy right after lunch? If you know this feeling, you are not alone. And it may be time to admit that slowing down and taking a nap can make a big difference for productivity.
An anti-stress break
Napping boosts our memory, frees up our creativity, and reduces stress. So say the experts. In other words, a nap helps us stay healthy. So forget the coffee or the Red Bull … take a quick nap. This habit is ideal for starting the second half of the day.
Bill Anthony, an American psychologist and director of the Harvard University Psychiatric Rehabilitation Center, has been studying the benefits of napping as a form of stress relief for 20 years. He says napping improves our immune defenses and contributes significantly to the reduction of cortisol, the stress hormone. It also promotes memorization and, by renewing the brain, makes it easier to assimilate new information. Other studies say that these 20 minutes of sleep boost our creativity and increase our intellectual capacities by 20 percent! Finally, a 20-minute nap can give us the equivalent benefit of two hours of sleep when practiced every day.
Below are some secrets for a good nap — to try out during your summer vacation and to practice effectively in all circumstances:
Choose the place for the nap
Contrary to popular belief, a nap is not taken in bed, which is reserved for the night. You can nap in a chair, hammock, or on a sofa — the key is to be as relaxed and comfortable as possible. But above all, isolate yourself from noise.
Turn off your phone
In order to fall asleep quickly, you have to eliminate the fear of being disturbed. Turn off your phone, possibly close and lock the door of the room where you will be resting, and ask not to be disturbed for about 20 minutes. This will make it easier to fall asleep.
Stay in the light
To wake up refreshed, do not send conflicting signals to your body by plunging it into darkness. So leave the blinds open and just put on a sleep mask if the light is bothering you.
Find a good position
In order to dive quickly into sleep, your body must be as relaxed as possible. Remember to undo your tie or unbutton your shirt. Important: Do not cross your legs.
Choose the right time
We're all different. Everyone should be listening to their biological clock to choose the perfect time to take a nap. Most of us are sleepy around 2:00 to 3:00, after lunch. If possible, that's the time to take a nap. But don't nap after 5 p.m. or you may have trouble falling asleep at night.
Set your alarm clock
A quick nap definitely has an effect on your ability to undertake new things. However, sleeping longer than 20 minutes can instead weigh on the rest of your day. You will end up feeling tired. So don't forget to set your alarm clock.
Breathe and relax
For some, it is difficult to fall asleep quickly. According to sleep experts, there is a trick that works every time. Everything depends on your breathing. First, get comfortable. Close your eyes and focus on your breathing. Inhale as deeply as possible and exhale as slowly as possible. Set a gentle rhythm and mentally relax all your muscles, from your feet up to the roots of your hair.
Wake up gently
The virtues of a nap are as much about how you wake up as they are about how you sleep. When your alarm sounds, do not open your eyes immediately. Allow your mind to slowly come back to wakefulness. Make small wrist and ankle stretches while reviewing things to do in the hours to come. Once your body is fully awake, open your eyes.
Be regular
It's important to stick to a regular nap schedule. This is what creates a real activity/rest cycle. It helps you fall asleep and wake up more easily. As the weeks go by, your body will relax much more easily. You may even be able to wake up without an alarm and be able to take micro-naps of three or four minutes if you're short on time.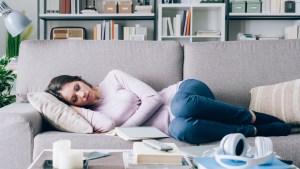 Read more:
Why you should give yourself permission to nap more often