The secret to finding true love is something we often don't do when we're pining for it.
What can God do in your life with one Bible verse a day?
Subscribe to Aleteia's new service and bring Scripture into your morning:
Just one verse each day.
Click to bring God's word to your inbox
As the years pass, we watch our friends and family members one by one marry off and have children. We're always happy for them, but if we don't find our own "better half," we can start to feel stressed and lonely, and ask, "What about me?"
Live today, not in your dreams
Someone who wants to have a husband, a wife, a family, yearns for it every day. However, we cannot allow that yearning to take the joy from the here and now. We could fall into the bad habit of postponing our happiness, waiting for some idealized future. First, we think, "I'll be happy when I find my spouse." When that happens, we change to "I'll be happy when we have kids." When the kids arrive, it's "… when we have a home, a better car, a better job …" and so on. It's sad. There is nothing wrong with wanting those things, but if that goal blinds you to everything that is important NOW, you will never be happy.
In reality, the time given to us today will never come back — the current day, the chance for a smile, to talk, to help someone, to rest … Life is made up of fleeting moments, so let's enjoy them now, today, and be grateful for what we have, rather than sad for what we don't. Once I heard a quote that made a big impact on my life: "If you were to wake up tomorrow only with what you were thankful for yesterday …"
Live your life now, don't wait
Often when hearing love stories, I've noticed that the "special someone" comes suddenly, when someone is already sort of resigned to solitude. My experience was similar. When I finally started thinking that it would be great if someone were to come my way, but if not, I would be happy, too — that's when my husband showed up in my life. (In the meantime, I had been praying for a good husband.)
I also think that when we stop fixating on being with someone, we tend to be more ourselves,to be less stressed, to smile more, and to focus on other things — and that's when a certain wall comes down. A wall made up of our own thoughts about ourselves: "What kind of person should I be for someone to love me? What else do I have to do to be noticed?" The answer is simple: be yourself — the best version of you. One day you will be loved just for being you.
Follow your passions, meet new people, get together with friends, and don't lock yourself up in the house: all of this will give you more positive energy and will make it more likely that your solitude will end.
Keep an open heart and mind
You might be looking so hard for your perfect match that you miss it when it comes along. Sometimes we have such a precise image of our partner-to-be that we don't even see that someone next to us could be a potential husband or wife. I almost overlooked my husband. I waited so long for the love of my life that many years of solitude and yearning brought me to a place where I thought I knew exactly what my husband should be like — physically and emotionally.
When I met Maciej, I had no plans other than to be friends with him. It was a time when I was praying for my perfect husband. He checked practically all the boxes on my list, except for one, most important and fundamental for me: he didn't believe in God, and to be precise, he had been outside the Church for the last 10 years. Because of that, I didn't even give a relationship a chance, and I shut the door completely.
Then, suddenly, I had a moment of awakening. I am a religious person, and I believe in God's Providence, so that man's presence in my life is not an accident, and nor is my presence in his, I realized. I questioned God about this and prayed for signs and for Maciej to return to God if we were to be together. I didn't have to wait long. In his search for God, Maciej found the Church, the same one I belonged to, and started to discover and experience that which is so close to my heart. And to think I almost overlooked such a wonderful thing!
God hasn't forgotten you
If you think it would be fun to go out with someone for a walk, a date … sure! If you want something like this in your life, there is a high probability that it will happen. But if you are still waiting for it, know that the Lord remembers you, and has a plan, and maybe that's why you are not yet experiencing what you desire.
Maybe you think that what you want is silly, but He knows you better than you know yourself, and He knows what is good for you. Take advantage of your time, right now: develop your passions, enjoy today, be grateful for each day, and wait hopefully for tomorrow.
Also, pray for a good spouse, go out in the world, and keep your eyes open. Good luck!
Read more:
An effective prayer to St. Raphael for those seeking a good spouse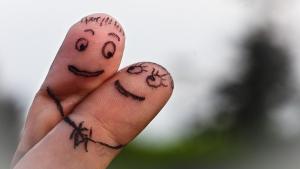 Read more:
Find the person who understands you perfectly