We need to understand how culture affects our relationships -- both personal and professional.
What can God do in your life with one Bible verse a day?
Subscribe to Aleteia's new service and bring Scripture into your morning:
Just one verse each day.
Click to bring God's word to your inbox
Whether at work, on social media, or even in our backyards, we will inevitably encounter people from different parts of the world today. While we may have things in common with each other, we will also find that our cultural backgrounds have some degree (and sometimes a great deal) of differences, too.
Sometimes these differences are more or less superficial, and fun — cuisine, music, and festivities, for example, are often celebrated and enjoyed across cultural lines. (People in the US are even learning to play and enjoy watching soccer!) However, sometimes cultural differences lead to misunderstandings, conflicts, and practical problems. That's when we need "cultural intelligence."
What is cultural intelligence?
First of all, we must define culture. Culture is a collective "program" in people's minds that distinguishes members of one group or category from those of another. Cultures are influenced by political boundaries, but there are many other determining factors, such as religion, ethnicity, history, and geography.
If we want to be successful today we need to develop the ability to understand and deal with cultural differences, so we can analyze misunderstandings and correct them, and even be able to avoid them from the start. That's what we mean by cultural intelligence.
5 Key factors for understanding other cultures
In the latter half of the 20th century, a Dutch social psychologist named Geert Hofstede developed his Cultural Dimensions Theory, which identifies where a given culture stands with regard to five key characteristics. These help us to study and understand individual cultures from around the world and adapt ourselves to them. The success of intercultural communication will depend on our degree of understanding and acceptance of the other culture, as well as on our knowledge of which of our own cultural traits may be unintuitive for other cultures.
Power distance index (PDI)
The PDI is the degree to which there is greater inequality, more levels of hierarchy, and the members of a society accept that power is distributed unequally. Countries with a high power distance index are also typically more violent. The contrary situation reflects the view that people should have equal rights.
Individualism vs. collectivism (IDV)
Individualism: In individualistic cultures, people identify first with themselves, and only second with the groups to which they belong. The goal of education is precisely to help people "find themselves" and support themselves on their own two feet, without being dependent on the group to which they belong. People are taught to take care of themselves first.
Collectivism: People belong to groups, clans, organizations, families, etc., which take care of them and to which they owe loyalty. Loyalty to the group takes pride of place, and people identify with a group first, and themselves second. A good image of this can be found in Asian cultures such as Japan, where a person's the family name comes first, and the given name second, the opposite of countries like the United States, where people prefer to treat each other on a first- (given)-name basis.
Masculinity vs. femininity (MAS)
This indicator tells us if, in a given culture, there are many differences in the way in which people should act based on their sex.
Uncertainty avoidance index (UAI)
This has to do with how people face the uncertainty of the future. Many people are comfortable in unfamiliar situations, such as when they go to another country. However, many others feel very uncomfortable when dealing with the unknown. This dimension measures the degree to which people feel threatened by uncertainty and try to avoid it.
Long-term orientation vs. short-term orientation (LTP)
This measures the degree to which a culture is focused more on the long term or short term. It refers to the importance a culture gives to long-term life planning in contrast with immediate concerns. Cultures with a high score encourage long-term vision to obtain future rewards, to save, resist, and adapt to changing circumstances. Cultures with a low score foster a relationship with the past and the present, national pride, and respect for tradition.
Although Hofstede admits that other dimensions could also be studied (and has recently added a sixth—"indulgence"—to the 5 above), this brief survey is sufficient for us to see that different cultures can have radically different perspectives on any or all of these important attitudes or assumptions.
So, the next time you're dealing with people from a different culture and find you are not communicating or working together effectively—or you're just plain puzzled by how someone is behaving—it would do you well to learn more about their culture and develop your cultural intelligence. (You can even find a map of the world illustrating countries' scores on Hofstede's personal website.)
In a world that is constantly changing, and where that change itself is accelerating, where technology has put us all in contact with others, independent of languages, races, or geopolitical origin, it will always be necessary to continue reflecting on the great opportunities offered us by the diversity of cultures for our personal and professional growth. When a human being is at the center of cultural reflection, our growth will be ethical and responsible.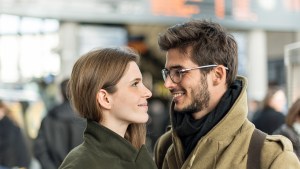 Read more:
Why international relationships are so challenging