The Lebanese saint has become widely known as a miraculous intercessor on countless occasions.
Need an idea for Lenten almsgiving?
Help us spread faith on the internet. Would you consider donating just $10, so we can continue creating free, uplifting content?
Make a Lenten donation here
Throughout history God has chosen certain individuals to work stunning miracles that reveal his great power and love for all of humanity. Among them, St. Charbel Makhlouf has proven time and time again to be a powerful intercessor through whom God desires to reveal his healing touch.
He was a humble and holy hermit whose weaknesses became great strengths in the hand of God.
Charbel was born in 1828 in Lebanon and was raised in a poor shepherd family. As he grew, Charbel was attracted to the hermit's life of the desert and eventually entered the Monastery of St. Maron in Annaya. He was faithful to his duties in religious life and drew closer to God every day. After many years Charbel felt God calling him again to become a hermit and was granted permission to live the rest of his life at a hermitage set on a hill near the monastery.
Charbel died on Christmas Eve at the age of 70, and when his body was later exhumed it was found to be incorrupt. A holy oil was discovered flowing from the tomb, which has since been the source of numerous miracles.
For example, a blind woman from Arizona was healed in 2016 after venerating the relics of St. Charbel. The medical committee investigating the miracle admitted, "We have no medical explanation and therefore believe this to be a miraculous healing through the intercession of St. Charbel."
In France, a baby boy was destined to die, so the family used some oil from St. Charbel's tomb and prayed a novena to St. Charbel for a miraculous healing. According to the family, "The doctors told us that he would sleep more and more and eat less and less. Instead, he was becoming increasingly alert and continued to drink his bottles in small doses. At the end of September, Côme was evaluated again. To our joy and to the astonishment of the doctors, his condition had improved so much that it was determined he would live … The Blessed Virgin and St. Charbel protected him."
There are many more miracles reported on this website dedicated to St. Charbel, proving that God enjoys working miracles through this humble Lebanese saint.
While we are never "guaranteed" a miracle when praying to God through a saint, the process can often transform our hearts and help us be prepared for whatever plan God has designed.
Here is the one novena (usually prayed for nine consecutive days) to St. Charbel that many turn to in their time of need.
Lord, infinitely Holy and Glorified in Your Saints,You have inspired Charbel, the saint monk,to lead the perfect life of a hermit.We thank You for granting him the blessingand the strength to detach himself from the worldso that the heroism of the monastic virtues of poverty,obedience, and chastity,could triumph in his hermitage.We beseech You to grant usthe grace of loving and serving You,following his example.Almighty God, Who has manifestedthe power of St. Charbel's intercessionthrough his countless miracles and favours,grant us …[Mention your intention here]through his intercession.Amen.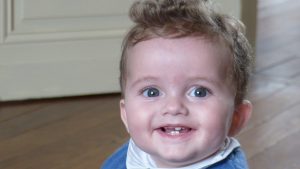 Read more:
The doctors said this baby boy would die … but St. Charbel had other plans
Read more:
Arizona Woman Claims Full Healing After Venerating Relics of St. Charbel