If you find yourself "going through the motions," try these helpful things to connect more with Sunday Mass.
Do you find yourself "going through the motions" at Mass? Often when attending Mass, it is easy to feel entirely disconnected from what is going on. We stand, sit, kneel and 60 minutes later, walk out the door.
It can be a monotonous ride that gets repeated Sunday after Sunday, leaving you spiritually lethargic.
Read more:
A letter to the parents who keep bringing their disruptive kids to Mass, week after week
In order to change this feeling and reverse the tide, bringing you closer to God in the process, you need to properly prepare for Mass. It's not always easy, but through spending extra time and effort, it is possible to desire Mass and look forward to the next Sunday.
To help you get started, here are five simple tips that can help you remain engaged in Mass, breaking the cycle of boredom.
1. Study the amazing symbolism and scriptural basis of the Mass
For many people, the Mass never "clicks" until they begin researching and digging deeper into why we do certain things at Mass. It can all seem like a collection of random actions, mixed with candles and incense. However, when you discover the amazing symbolism behind everything at Mass (ever single word and gesture), the Mass can open up and became what it truly is: the Wedding Feast of the Lamb. Until you understand the richness and depth to the Mass, it will always be a strange ritual that is hard to understand.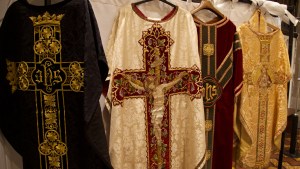 Read more:
Why do priests wear a chasuble at Mass? And what's a chasuble?
2. Read the Mass readings before getting to church
It is often difficult to listen to the readings at Mass. Thoughts can wander or the sound system can make it hard to hear the lector. This is why it is extremely beneficial to read the readings beforehand, as you will already be familiar with scripture passages and will have a better chance of paying attention. These readings are always available online at the USCCB website, or through a vast array of apps, such as iBreviary.
3. Arrive early and/or observe 15-30 minutes of silence before Mass
It is much easier to remain attentive at Mass when you don't come flying in at the last moment (or after the homily begins). A few moments of prayer can allow a person to decompress from the busyness of life and focus their attention on God. If you are not able to physically get to Mass early, then the next best thing to do is turn off the radio in the car. We need to allow our soul time to disconnect from the distractions of the world and that is why it is essential to reduce the noise that we experience as we travel to Mass.
Read more:
Pope Francis: Why is silence so important during Mass?
4. Use the missalette or bring a missal
Typically there is a small missalette in the pews that allows a person to follow along with the words at Mass. What can be helpful is to follow along with the words of the priest, which then focuses a person's attention on the Mass. Sometimes it is easy to be distracted while the priest is saying the Eucharistic Prayer and so reading the words he is saying can help focus your attention. The words at Mass are really quite beautiful and very easy to miss if we are not aware of what is going on. Besides using a missalette, a person can purchase their own missal to bring along, or subscribe to a monthly publication like Magnificat that publishes the prayers and readings for Sunday and daily Masses.
5. Ask your Guardian Angel to help you stay attentive
It is easy to forget that Mass is a meeting between Heaven and Earth and that your Guardian Angel is the perfect helper to keep you immersed in the liturgy. They are there at your side and ready to help. All we have to do is ask. They especially appreciate the invitation to accompany you as you receive Holy Communion. They will never have the opportunity to receive Jesus in the Eucharist and so being with you during that time is a special event.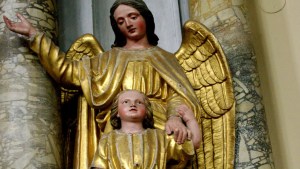 Read more:
A visual guide to Guardian Angels: Here's what you need to know