Twitter users are loving how Kem Cetinay came alongside a teen to help him accomplish a goal.
Kem Cetinay is best known for his performance on UK reality television show Love Island, but now he's on people's radar for helping a teenage boy to attend his prom.
After opening up about , Kem was introduced to Connor, a 16-year-old who experiences severe anxiety, in order to provide him with the support he needed to be able to attend his prom.
What a heartwarming moment it was to see @KemCetinay help 16-year-old Connor attend his first prom after struggling with severe anxiety.
Watch here: https://t.co/NBUno1N9fV#Lorrainepic.twitter.com/cnK6xWl4yY

— Lorraine (@lorraine) July 10, 2018
Twitter users loved it. Tweets of compassion, support, and empathy flooded in with many sharing that the watching Kem help Connor was even healing for them.
@lorraine what an amazing boy Connor is ❣️. Bringing awareness is such a huge and brilliant thing well done Loraine. Sending warm hugs to all people putting one foot in front of the other in challenging times of anxiety 😘 xx

— laura (@laura07992141) July 10, 2018
Nothing but respect for @KemCetinay about talking and opening up so honestly about anxiety on @lorraine

— Ashley (@AJC_92) July 10, 2018
Watching Connor and @KemCetinay on @ITV@lorraine makes me feel teary! Connor looked great and it always helps to speak to someone who's been there. #Anxiety#ConnorAndKem#Justbeyou

— TheRealTweeter (@Missy_Nat20) July 10, 2018
Speaking out about mental health can be a source of healing for yourself, for others, and for society as a whole. Let's not underestimate the power of one voice or one act of compassion in moving toward a more understanding world.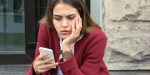 Read more:
Struggling with anxiety? This small action could yield big results