Jesus is on a mission to shatter our expectations this Sunday ...
Jesus is on a mission to shatter our expectations this Sunday (the 17th Sunday in Ordinary Time, Year B).
This is first in a series of Sundays in which Jesus presents the Eucharist. He wants to tell the world why he would ever want to give himself as our food.
He starts it all off with the miracle of the loaves, the only miracle (besides the Resurrection) that is included in each of the four Gospels. He has several points he wants to make.
First, Jesus wants us to notice that he notices our needs.
We get accustomed to thinking of God as someone in the background of our lives — a vague Holy Presence hovering over the world. When we tell him what we need, it is something big that we can't get on our own: reconciliation with our sister, certainty about our vocation, health for a sick friend.
But we know that everyday stuff, like lunch, is up to us.
The Gospel presents a very different picture. Jesus is the one who notices that the people need to eat, and teaches the apostles the lesson of Sunday's Psalm: "The hand of the Lord feeds us; he answers all our needs."
It's the same lesson Jesus drills us in by giving us the Our Father: "Give us this day our daily bread."
The lesson is that God knows everything we need, and it is he who provides it all. Even lunch.
Second, Jesus also wants us to notice that we can't fulfill each others needs.
Next, he demonstrates our human inadequacy. He says to Philip, "Where can we buy enough food for them to eat?"
Philip says "Two hundred days' wages worth of food would not be enough for each of them to have a little."
That's right. What we have, even when it looks like a lot, is never enough. The best we can do is never quite enough.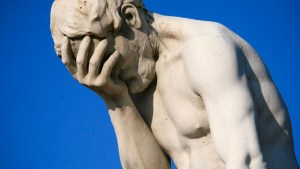 Read more:
Wishing you hadn't done or said that? This saint can help
Third, Jesus reveals himself as the God who gives us too much.
We have all been at a dinner where the meatballs are rapidly running out and a parent or sibling whispers, "Family hold back." We have also all been at dinners where what goes in the refrigerator seems even greater than what went on the table — when Thanksgiving dinner is followed by identical dinners throughout the long weekend.
Jesus's meal is the second kind. "Gather the fragments left over," he says to the apostles, "so that nothing will be wasted."
In the first reading, recounting a similar miracle by Elisha, God makes this a bragging point: "For thus says the Lord, 'They shall eat, and there shall be some left over!'"
At the same time, the meals he gives are not extravagant — both readings refer to barley loaves, the poor-man's bread. They aren't meant to satiate us. They are meant to tantalize us.
Fourth, he does all of this so we will trust him with more than bread.
The old saying "The way to a man's heart is through his stomach" is based in the truth about human nature. Surveys show that most of us — men and women — consider providing or receiving food an expression of love.
God uses food this way, too, from the days of manna in the desert to the Eucharist. He doesn't provide food to satisfy our desires, but to transform them.
As St. John Paul II put it, "I wish that you may no longer be hungry for bread, but that you may still be hungry for God."
After all, said Mother Teresa, "The hunger for love is much more difficult to remove than the hunger for bread."
This is ultimately why God takes the apostles through this exercise in which he notices their hunger and demonstrates that they can't fulfill it.
God wants us to know that he notices what we our bodies need so that we will trust him when he notices that our souls need even more.
And God wants us to see that he gives us too much for our body so that we will trust him with our even greater hunger, for love.
That hunger seems too great for anyone to fill. God wants us to know that not only will he fill it, but that when it comes to the Eucharist, he remains the God who gives too much.