Studies show that there are certain hours of the night that are the most restful.
What can God do in your life with one Bible verse a day?
Subscribe to Aleteia's new service and bring Scripture into your morning:
Just one verse each day.
Click to bring God's word to your inbox
Come hell or high water, when 7:30 p.m. rolls around my kids are going to bed. Summer, winter, school, vacation — with rare exceptions, we stick to our 7:30 bedtime religiously.
When those exceptions happen, like for sleepovers with cousins or holidays, we pay for it the next day. The kids are exhausted from lack of sleep and cranky, and depending on the child in question they either lie around whining all day or spin out of control with hyperactivity. It's harder to get them to go to sleep at night, and they sleep poorly. In fact, it takes several days to get their sleep patterns readjusted after just one late night.
One thing I'm learning as my oldest approaches her teenage years is that even if my kids sleep late enough to get close to the amount of sleep they're used to getting, going to bed late still causes serious behavior and mood problems the next day — sometimes for several days. A recent article in Slate explained exactly why it's important for kids to go to bed early — like, before the sun sets early:
But an early bedtime may have benefits beyond its direct impact on sleep duration. Indeed, "when a child sleeps is probably as important or maybe more important as how much," explains pediatrician Marc Weissbluth, author of the best-selling book

Healthy Sleep Habits, Happy Child.

That's because the sleep that happens earlier in the night tends to be

more restorative

than sleep that takes place later at night and in the early morning. So putting your kid to bed early may ensure that a higher proportion of her sleep is the extra-restful kind.

And well-rested kids behave quite differently than sleep-deprived kids. In that same interventional study I mentioned earlier, the 7- to 11-year-olds who were put to bed an hour earlier for five nights were rated by their teachers (who didn't know that they'd gotten more sleep) as being less irritable and impulsive than usual. A similar

study

found that four nights of going to sleep an hour earlier made 8- to 12-year-olds more even-keeled and boosted their short-term memory, working memory, and attention skills compared with kids who had their bedtimes shifted later by an hour … For teens, early bedtimes seem beneficial, too. One

study

reported that adolescents with parent-set bedtimes before 10 p.m. were 24 percent less likely to be depressed and 20 percent less likely to have suicidal thoughts compared with those who had later bedtimes.
The truth is that we're still wired to go to bed around the time the sun sets. Our bodies evolved to get several hours of sleep before the midnight hour — so getting 8 hours of sleep after midnight just doesn't cut it. It's not the quantity that matters as much as the quality.
If you're not convinced yet, let me tell you about an experiment I did. After one of the aforementioned "rare exceptions," I noticed that my kids' moods and meltdowns were eerily similar to how I was feeling. If I weren't a grown adult I would have been right there with them, whining, crying, fighting, and generally spreading my misery around for everyone to share.
The night before, I had gone to bed much later than I planned, getting only 5 hours of sleep before my morning camp. Usually I manage at least 6, 7 on a good day.
But I was so struck with the similarity between my kids' emotional fallout and my own that I decided to go to bed when they went to bed for a week.
And y'all, when I tell you I felt like a different person I mean it. I felt 110 percent more energetic, happier, more hopeful, more focused, and even stronger than I do on a daily basis. By the end of the week I realized that I had been missing sleep the way people with amnesia must miss their loved ones — I knew I was working hard to push through every day, but I couldn't figure out why it was so hard. I had forgotten what it felt like to go to sleep early, and how good I felt with that precious, pre-midnight sleep.
But it's not a lesson I'll forget again. I might not manage it every day, but when I can go to bed early I'm no longer tempted by television or Facebook scrolling. I rush to bed like it's my job — because that quality, early-nighttime sleep makes living life so much better.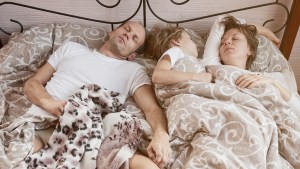 Read more:
A full night's sleep: A parent's impossible dream