The 19th-century author of 'Wuthering Heights' turns 200 this July 30 and her life and work still speak to us.
Crack out the birthday cake and have a lot of candles at the ready. Emily Brontë's legion of fans will celebrate her 200th birthday on July 30.
Admirers of the enigmatic author are set to commemorate the day in suitably varying ways. Emily's birthplace — Thornton, England, near Bradford — set up a period-appropriate mailbox embossed with her poem, "High Waving Heather." A Scottish craftsman fashioned a violin in Emily's honor. Oh, and some lucky soul may give him or herself a gift — a rare first edition of Wuthering Heights, Emily's most titanic literary achievement (and the only novel she ever wrote). It'll only set them back $11,300.
Emily might be surprised that she's remembered, much less celebrated, two centuries after she was born. She never married, and thus had no children to carry on her memory. She published Wuthering Heights in 1846 under a pseudonym (Ellis Bell), and initial reviews were decidedly mixed. She died just a year later. More people probably knew her as a homemaker than a writer.
But since then, the influence of Wuthering Heights has become almost inescapable. The story's been chronicled on film or television about a dozen times, with each generation giving it its own spin. The 1939 movie was the most acclaimed, starring the legendary Laurence Olivier and nominated for a Best Picture Oscar. The 1978 BBC television adaptation is considered the most faithful. Other re-imaginings transport Wuthering Heights' British moors to Mexico (1953's Abismos de Pasion) or Medieval Japan (a 1988 version directed by Yoshishige Yoshida). When The Guardian decided to rank the 100 greatest novels written in the English language, Emily's masterpiece logged in at No. 13. Not too shabby for a one-time, part-time novelist.
Despite the book's ubiquity and success, the author herself remains something of a mystery. She was notoriously introverted and had very little interest courting fame. Still, from what we know of her life, Emily Brontë still inspires and teaches us in her own quiet way. Take a look at some of the characteristics she embodies so well …
Imagination
Emily's mother, Maria, died when Emily was just 3. Her father, Patrick Brontë, was a 50-something clergyman who didn't have much time to entertain his children (daughters Charlotte, Emily and Anne — who all became published writers — and son Branwell). She and her siblings dove wholeheartedly into a world of staggering imagination, sparked by a set of toy soldiers that Branwell was given. Combined, the four Brontës wrote hundreds of poems detailing the happenings in the twin kingdoms of Angria and Gondal — poems now enshrined in the British Museum.
While some people back in Emily's day might've thought such imaginative worlds were a waste of time, modern scientists and psychologists understand how important imagination is to a young mind. Childtime.com notes that phrases like "critical thinking skills" and "creative problem-solving abilities" are simply other words for imagination. Imaginative kids are more able to deal with unexpected problems and trials as adults. In an age when imaginative playtime is so often co-opted by screens and programs that imagine for us, Emily reminds us that nothing replaces the adventures that our children can create all on their own.
Multi-tasking
While most celebrated writers of the day had plenty of money (which gave them the leisure time to write), the Brontës were not rich. They did most of their own housework (especially when their longtime housekeeper got too infirm to keep house), and because sisters Charlotte and Anne worked as governesses pretty regularly, Emily did more than most.
But even as she worked around the house, Emily's mind was on her writing. "Whatever she was doing," one servant wrote, "Ironing or baking, she had a pencil by her." That's a wonderful example for anyone who wants to write or paint or compose, but finds the real world getting in the way: You don't need to quit your job(s) to create. You just need to be more creative in carving out the time and finding opportunity to do so.
Truth-telling
When Wuthering Heights was published, some Victorian-era critics were shocked by it. "How a human being could have attempted such a book as the present without committing suicide before he had finished a dozen chapters, is a mystery," wrote a critic for Graham's Lady Magazine in 1848. "It is a compound of vulgar depravity and unnatural horrors."
Indeed, most of the characters in Emily's novel weren't particularly sympathetic. But they did have a raw, even painful honesty about them — a rubbing truth that has influenced literature into the present day. Emily was a keen observer of human nature, and she was determined to paint that nature with all its scars and warts.
Seeing and telling the truth is an important part of creating art, obviously, but we need to remember that it's also part of being a Christian in a fallen world. 
Faith
It's difficult to ascertain the state of anyone's faith, much less the faith of a reclusive author who lived and died a couple of centuries ago. Some atheists, agnostics, and pagans have adopted her as one of their own, and her portrayal of Christian zealot Joseph, who'd bombard his young charges with interminable sermons in Wuthering Heights, doesn't paint Christianity in a particularly favorable light.
But to say that Emily wasn't Christian seems to ignore or twist what we actually know about her. She was the daughter of a parson, and about the only times she set foot outside her house were to either to walk in the woods or … go to church. And when we turn to Emily's poems, many of them deal with God and/or the afterlife. Take a look at "No Coward Soul Is Mine" for a few religious tingles. Emily reminds us that we can be people of deep faith and still be critical of aspects of that faith at the same time.
Quiet power
Some have suggested that Emily and her sister, Charlotte, chafed at the age in which they lived and what society expected of women back then. It's true that they didn't break any occupational molds, working as governesses and homemakers. And it's true that both published their books under male pseudonyms: They felt that their work wouldn't be taken seriously if they published under their own names. But in writing for The Atlantic, Judith Shulevitz suggests that it's actually through holding true to societal expectations of the day that they were able to write so powerfully, and so incisively.
"Charlotte and Emily Brontë were never weak," she writes. "As for homely tasks like baking and cleaning, the authors may have done them only faute de mieux, but the work anchored their writing in a reality that had never been quite so material to fiction before. It also probably helped them stay sane in the process."
It's a mistake of our modern age to assume that following traditional gender roles or expectations marks weakness or a lack of ambition. For most of Emily's life, she was a homemaker, sometimes a teacher, and always a dreamer. None of those roles diminished her genius and insight and literary flare. "I wish to be as God made me," she once said, and so she was — both fulfilling and transcending what others wanted her to be, too.
And so can we all. Most of us, I'd imagine, live fairly prosaic lives. We do our jobs. We raise our kids. We do what we have to do to move from one day to the next. But Emily Brontë reminds us that God made us all for a reason. And that even within the confines we live in, we can find room to soar.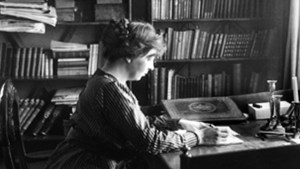 Read more:
5 Underrated women writers you should be reading