Asking what they can get out of it is the wrong question entirely.
What can God do in your life with one Bible verse a day?
Subscribe to Aleteia's new service and bring Scripture into your morning:
Just one verse each day.
Click to bring God's word to your inbox
Mass is boring for my toddler — less so when he's being bad, but it's extremely boring when he's being good and staying fairly still. It was boring for me too at that age. I have early memories of trying to entertain myself by getting lost in the wood grain of the pew in front of me. I don't think I could even see the altar, much less understand what was going on.
I think a lot of parents don't want to subject their child to a weekly hour of something he can't possibly understand, and they wonder why a little child — especially a loud, distracting one — should even come along to Mass. What could he possibly be getting out of it?
This question only makes sense if the Mass is essentially just a classroom, a place we go to learn about our faith. And yes, the Mass absolutely teaches us about our faith. It will be nourishing our understanding our whole lives, and its symbols, rituals, and prayers are so rich with meaning that a lifetime of study couldn't exhaust its perpetual newness. Even just a good homily, just the readings from the Bible, can teach you so much.
But the Mass is not some advanced weekly CCD class, and knowledge, thank goodness, is not a prerequisite for a relationship with Jesus. Mass is an encounter. It's worship. It's the sacrifice of Christ's death on the cross, offered for the forgiveness of sins. Liturgy IS the work of the Church; the Church doesn't exist for charity, ministries, or other things, with Mass being secondary. It's the other way around. Priests are ordained FOR the Mass.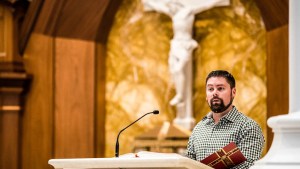 Read more:
Bishop Barron: What is happening at Mass?
But back to the simple teaching element. Even though he can't  follow along, I can name a few things that Mass teaches my toddler: It shows him other people, people of every age and culture, participating in the same faith. It shows him that his family is not the only one who believes. It shows him that there's something special about Sundays. The music tells him we are celebrating. He gets familiar with an environment that, I can only hope, will be a place he spends countless hours throughout his life.
But even if it didn't teach him any of that, I'd still take him. God made human beings with bodies. That wasn't a mistake. Then, when he became man, he took on a physical body too. And that body is still with us, in our tabernacles, physically there. It's one of the greatest miracles of our faith that we can physically sit in the presence of our God. So how could it be a waste to bring my children as close to Him as possible?
When Christ commands his apostles to "let the little children come to me," he means it quite literally. "Let them come," because after all, "The kingdom of heaven belongs to such as these." The rest of us, we may get into heaven, but heaven belongs to the children. An adult who gets in only does so by becoming like a child, Christ warns us. If anybody was going to be excluded (though nobody is) wouldn't it be us, the adults? We're the ones whose sin constantly tries to edge God out of our lives. Our little children haven't sinned, and in them, the grace of baptism is just as real as it is in us.
Asking "What does a little kid get out of Mass" is as silly as asking what an adult gets out of the Mass. Only God could answer–but in both cases, I think it's safe to say that we "get" more than we could possibly comprehend.
Read more:
A letter to the parents who keep bringing their disruptive kids to Mass, week after week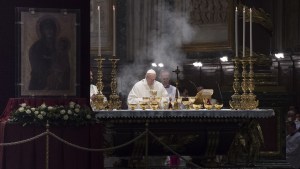 Read more:
Why is Sunday Mass important, anyway? The pope explains