And how the story of St. Margaret of Antioch may have inspired Catholic author J.R.R. Tolkien.
What can God do in your life with one Bible verse a day?
Subscribe to Aleteia's new service and bring Scripture into your morning:
Just one verse each day.
Click to bring God's word to your inbox
While Satan and his minions can often make a great show, puffing themselves up to appear like an invincible foe, they are in reality quite weak in the face of purity, goodness and the Divine Majesty. Even a teenager can defeat Satan, through the power of God, casting him back to the depths of Hell.
Such was the case with St. Margaret of Antioch, a holy and devout 15-year-old girl living in the 4th century. Her father was a pagan priest, but she was raised by a Christian nurse who taught her the ways of the Gospel. Margaret consecrated her virginity to God at an early age and lived a devout life of prayer.
After refusing the proposal of the Roman governor, she was jailed and tortured. In the midst of this imprisonment, a fierce demon came to try and overtake her soul by force.
According to the Golden Legend, Margaret "prayed the Lord to let her see the enemy who was fighting her, and a hideous dragon appeared, but when the beast came at her to devour her, she made the sign of the cross and it vanished. Or, as we read elsewhere, the dragon opened its maw over her head, put out its tongue under her feet, and swallowed her in one gulp. But when it was trying to digest her, she shielded herself with the sign of the cross, and by the power of the cross the dragon burst open and the virgin emerged unscathed."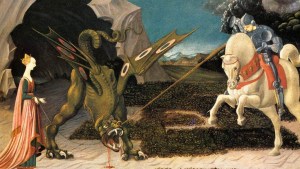 Read more:
These saints were professional dragon-slayers
Later the demon came again, this time in the form of a man. Margaret wasn't fooled and her supernatural ability to defeat the demon became a source of great embarrassment to the evil creature.
She saw him and resorted to prayer, and when she rose, the devil approached, took her hand, and said: "Let all you've done be enough for you, and just let me be!" But she grabbed him by the head, pushed him to the ground, planted her right foot on his head, and said: "Lie still at last, proud demon, under the foot of a woman!" The demon cried out: "O blessed Margaret, I'm beaten! If I'd been beaten by a young man I wouldn't mind, but by a tender girl …! And I feel even worse because your father and mother were friends of mine!"
Interestingly, this fantastical story may have been a source of inspiration for Catholic author J.R.R. Tolkien in writing one of the most memorable scenes of The Lord of the Rings series. In the final battle of The Return of the King, a cloaked warrior approaches a demon-like creature (called the "Black Captain") riding a type of winged-creature, similar to a dragon.
[Demon-like creature] Hinder me? Thou fool. No living man may hinder me![Warrior] But no living man am I! You look upon a woman. Éowyn I am, Eomund's daughter. You stand between me and my lord and kin. Be gone, if you be not deathless! For living or dark undead, I will smite you, if you touch him [Théoden].… A swift stroke she dealt, skilled and deadly. The outstretched neck [of the dragon] she clove asunder, and the hewn head fell like a stone. Backward she sprang as the huge shape crashed to ruin, vast wings outspread, crumpled on the earth; and with its fall the shadow passed away. A light fell about her, and her hair shone in the sunrise.
With a little help from her friend Merry, Éowyn then struck the Black Captain directly into his face with her sword, sending the dark spirit away from Middle-Earth.
Being a medieval scholar, Tolkien was very familiar with texts such as the Golden Legend, and Judy Ann Ford confirms this in an essay featured in the book Tolkien and the Study of His Sources. The similarities between these episodes are striking and some have argued that Tolkien was inspired by St. Margaret of Antioch when writing this sequence.
Whatever the case may be, both stories highlight the weakness of evil in the face of truth, beauty and goodness, confirming the reality that God is infinitely more powerful than any demon, no matter how hideous or powerful they may appear.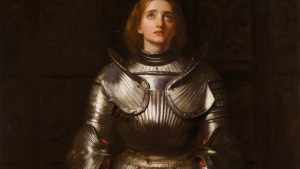 Read more:
5 Ways Joan of Arc was as tough as any action hero