This 5-step practice from St. Ignatius can open the way to healing ...
What can God do in your life with one Bible verse a day?
Subscribe to Aleteia's new service and bring Scripture into your morning:
Just one verse each day.
Click to bring God's word to your inbox
Frequently, emotions will arise from a mysterious source deep within me and I find myself anxious or annoyed with no clue why. I'm typically at a loss to say why I'm having a bad day and I have trouble fixing it. This is because, as a psychologist once told me, I have no clue at any given moment what I'm feeling. Which means I often behave in ways that are unexamined and unhealthy because I'm carrying around past hurts that I'm not even aware are still affecting me. It's only later that I reflect and understand the cause.
As small as my hurts may be, I struggle to put them behind me. As a pastor, I talk with people who are seeking counseling and prayer and I find that past hurts and trauma can linger like an open wound. It may be a memory from childhood or a more recent event, but either way if it isn't dealt with, that past hurt will continue to cause a negative, ongoing effect. A lack of inner healing can destroy marriages and friendships. It makes us behave in self-destructive way and can make inner peace impossible.
So how do heal and we move forward?
Enter St. Ignatius of Loyola, the 16th-century priest and founder of the Jesuits. His life was marked by various trauma-inducing events. His mother died when he was young, he was involved in several violent altercations and murdered a man in a duel, and he had his leg maimed by a cannonball in battle. As a result of his injury he underwent several painful surgeries with no anesthetic. It was during his recovery that he begin to contemplate his life and begin to make changes. Ultimately, he published his Spiritual Exercises, which detail his practical method for achieving spiritual freedom. Part of his process, called the Examen, is helpful to examine past hurts, mistakes, and motivations for actions.
Here is his five-step daily meditation that helps bring to light past hurt and opens the way to healing …
Seek enlightenment
By this, St. Ignatius means that we should enlarge our perspective. It's all too easy to fixate on past hurts and allow them to become our identity, which is why carrying that weight over time becomes isolating. It's tremendously helpful to see ourselves with new eyes. Ignatius particularly has in mind seeking a Godly perspective, but it's also good to find support from friends and family.
Give thanks
When I'm anxious or feeling hurt, my mind constantly fixates on my worries, which only makes the hurt grow in size. Psychologists agree with St. Ignatius  that it is important to dwell on positive experience to break a negative mental cycle. This won't erase the hurt, but it will provide some much needed emotional breathing space.
Know your emotions
Take an honest look at the day, including what hurts may have accumulated and which past hurts are still lingering. I often take time by myself at the end of the day to reflect and honestly consider where I stand, asking myself what emotions I'm experiencing and identifying their source. Strong emotions mean that I have some digging to do to sort out whatever is happening in my soul. Psychologists agree that it's vital to make this review, identify emotions, and work towards understanding them. 
Be responsible
It's hard, but no matter who has hurt me I cannot use it as an excuse for my faults. One of the steps to healing is to break the cycle of acting out. Even if I'm negatively affected by past hurts I cannot allow the negativity to saturate the rest of my life and control my behavior. When we take responsibility for our actions, it sets us free to make positive choices in the future.
Be ready for tomorrow
We do not have to be captive to our past forever, and the future is bright for every person regardless of what experiences got us each to where we are today. St. Ignatius advises that each day we make a resolution be the best possible version of ourselves.
Throughout his life, St. Ignatius found his meditations to be an effective way of leaving his past behind and making progress towards the type of person he wanted to become. His influence continues to be widely felt today as people from all walks of life use his practical methods to progress in self-knowledge, understand their emotions, and find healing.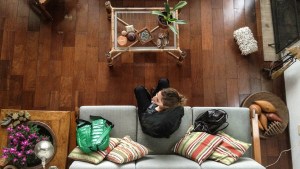 Read more:
How silence stopped terrifying me, and started healing me