Sometimes summer feel less like a vacation and more like an endless bicker-and-beg-for-snack-fest ...
What can God do in your life with one Bible verse a day?
Subscribe to Aleteia's new service and bring Scripture into your morning:
Just one verse each day.
Click to bring God's word to your inbox
There are some days when I wake up, train my camps, and come home to realize that I'm not in a very good mood. It's always kind of shocking, which might sound silly at first until you realize that training camps is a very people-oriented job, and I'm an extremely people-oriented person. People make me happy. Social interaction almost always energizes me, so walking away from camps feeling drained and snappish is a little disorienting.
Usually, the cause isn't actually the social interaction. It's more likely to be the tail end of a few days of little sleep, but with the kids at home for summer break naps are few and far between.
On those days, I know I need a pick-me-up to keep my grumpiness from spilling over onto everyone else. Sometimes it works to get out of the house and hit another trainer's camp or go a few rounds with the punching bag, but that's not always possible with five kids. Since exercise is my go-to bad mood buster, I've spent some time this summer searching for quick fixes for a mood funk. Lo and behold, The Financial Diet has a list of 14 ways to bust that bad mood — and they're all free. Here are my two favorites:
Call a relative or a close friend you don't often get to catch up with. It's more mood-boasting than you think, because you'll be excited that you actually made the effort to see how your long-distance friend or favorite cousin is doing. It'll also make you tell them how you're doing, which might help you realize you're doing better than you think. Bring a book to read on your lunch hour. Or better yet, start an at-work book club once a week during lunch. (And make everyone gets the book at the library, of course.) Even if you're just reading a chapter a week, it will motivate you to look at something non-work-related during the day.
The phone call thing is one of my favorites. The kids spend a lot of time pestering me to call their friends from Florida, and I'm honestly sick of saying "not right now." So I've started saying yes, and letting them Facetime their friends.
It might sound silly that I would say no in the first place, but my phone is my lifeline for work. I'm constantly texting and emailing campers and business partners, and a 30-minute Facetime in the middle of prime texting time is a stressful prospect.
However, I'm realizing that I enjoy those little moments of Facetime connection as much as my kids do. I miss their friends, all those kids who used to spend summer days roaming from house to house in Ave Maria. I like hearing how they're doing, and I like being able to connect with my own kids emotionally through shared memories of our life in Florida.
But my favorite bad-mood-buster is probably taking the kids to the library. This is kind of a novelty for us, since our library in Florida was a solid hour drive (and therefore mostly out of the question). But here, the library is less than five minutes away. They each have their own library card, and the library has a little toddler play zone that Isaac loves to explore while the bigger kids wander the library shelves, finding a few books that catch their eyes.
It helps that the library is basically my mothership. There's something incredibly soothing about the hushed silence, the rustling pages, and the harassed librarians reminding children to walk and whisper in fierce whisper-shouts.
I'm not going to lie though, the biggest draw to the library is knowing that when we get home I'm basically guaranteed at least an hour of silence and iced coffee while the kids dive into their new books. There's no mood so bad that it can't be fixed with some iced coffee and blissful, blessed silence.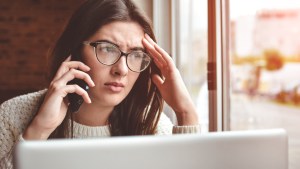 Read more:
4 Common factors that are probably responsible for your bad mood