The process of moving is exhausting, even when joyful, but with God's help, you've got this.
What can God do in your life with one Bible verse a day?
Subscribe to Aleteia's new service and bring Scripture into your morning:
Just one verse each day.
Click to bring God's word to your inbox
The months between April and September are known as the "hot season" for moving. While about 40 million Americans move each year, about 80 percent of those moves happen in the peak season of the warmer months.
The process of moving is a life-shaping experience, with each element bringing new challenges, and it doubles when you are both selling one home and purchasing another. Your biggest challenge looms before you: keeping your family's spirits up through it all, no matter what. Even if your moving company fails to show up the day of the move (happened to us!) or you're crazily throwing prized possessions in garbage bags on the big day because you've run out of packing boxes (happened to my friend) … what matters most is a strong (nay, stronger!) family at the end of it.
Here are some ways I've found through trial and error to keep a family grounded and connected during a move. Let me just move a few boxes out of the way first.
1. Adopt a poverty of spirit
"Blessed are the poor in spirit," said Christ. Spiritual poverty is the recognition of utter dependence on God. Jesus ived with material poverty. Whatever your financial status, during a move, you enter into an experience of some degree of poverty. You wear the same few clothes or live out of a duffel bag while your things are in storage. You're unable to locate a certain belonging because you can't find the box you put it in. You sleep on the floor while your bed is in transit. You might not even have a home to move into if you sold your place before buying another. Adopt a ready willingness to depend less on material goods to make you comfortable. It might sting at first, but soon a new freedom comes. It's like candlelight when the electricity is off: strange at first, then beautiful.
2. Embrace liminality
A very wise priest friend of my family once told me that the greatest growth happens in times of liminality, if we let it. Liminality, from the Latin meaning "threshold," is defined as a transitional in-between state: you have left one home but have not yet entered another. You may live with family or in some other transitional situation as you wait for your new home to be ready. This can cause feelings of anxiety. It can also be an opportunity to reset: to drop poor habits and adopt good ones.
3. Stay connected to your spouse
You'll have extra pressures and stress but he or she is the only person in the world going through exactly what you are right now. Rather than considering each other safe enough to snap at, become stronger allies! This crazy time is something that can make you stronger and wiser as a couple. Set aside quality time each week, even if it's just an hour. Have a bite to eat together and talk of something joyful. Or hold hands at Mass and silently recall the beauty of your wedding vows.
4. Rally the children
Whatever their age, allow your children to be part of every stage of the move. Have them help you pack! A two-year-old can fill a box with books (even if you have to fix it after) and will love being helpful. A teenager is strong enough to be a significant help with packing, carrying, and cleaning. Take pictures of each stage of moving so you'll be able to look back on the journey and see the old house again, both before and after the furniture is out. Holding hands together, pray as a family before you leave the old house for the last time and again as you enter the new house for the first time. As a family, pick a name for the new house – the act of naming can be a powerful bond with the new space, even before you move in.
5. Remember where you belong and whose you are
This is the most important one, but I cite it last for the strongest possible parting words. Do one thing every day you can count on that feeds your soul, to remember that our truest home is not on earth. In the words of St. Therese of Lisieux, "The world's thy ship and not thy home." Be gentle with yourself when you feel stressed: this is not an easy time of transition. Strengthen yourself by setting aside at least one special time for prayer to give you ballast. Remember to invoke St. Joseph, the patron saint of families and home-sellers. He never fails to help.
It's true that the process of moving is exhausting and even when joyful, can be emotional and overwhelming. But just think: you've already had the guts to embrace change and make a new life for yourself and your family. With God's help, you've got this.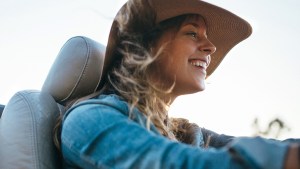 Read more:
10 Expert tips for being more optimistic