There is an ease as expectations become more realistic and truths are easier to embrace ...
Need an idea for Lenten almsgiving?
Help us spread faith on the internet. Would you consider donating just $10, so we can continue creating free, uplifting content?
Make a Lenten donation here
Laughter rose from a circle of folks in the church parking lot when a senior parishioner at the center of it all exclaimed, "Growing old ain't for sissies!" His recent release from a rehab facility, after the hospital stay following a disaster at home, placed him solidly in the land-of-the-aging—and he was taking it all in stride with humor.
I too find it's best to have a sense of humor to be able to accept the usually inevitable 4-Ds: disaster, decline, dependency, and death.
We soon reach an age where, as I've written before, we come to embrace our mortality as we "rise to" our eternity. But here's what many don't realize: That sobering thought is quite liberating!
As Christians we pray that one day we may return home to God. We know from Romans 14:8 that "… if we live, we live for the Lord, and if we die, we die for the Lord; so then, whether we live or die, we are the Lord's."
I've come to find peace in that Bible verse as I've aged. Like a religious sister I've been following on social media, I find memento mori is far from frightening.
Praying with the reality of death—though not eager to go through the necessary suffering of aging—I find comfort in knowing I am growing into an intimacy with Our Lord I would otherwise never experience. Prayer liberates one's attachment to so many earthly things.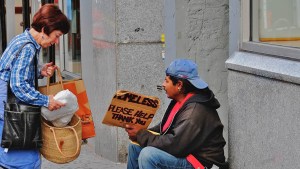 Read more:
Why giving to the poor is NOT actually charity
I've come to embrace getting old. I am a gardener emeritus, retired from kneeling on dirt, so I hire more able-bodied folks to mow the yard and prune the lilacs. I've learned new ways, as previous identities evanesce like morning clouds. Sometimes it's a gentle detachment as my interests mature and evolve. Other times it's an abrupt severing of what is familiar, and adjusting to a whole new landscape of life.
Having an open and positive nature regarding change has proven essential. I try to stay focused on what St. Teresa of Avila says: to let nothing disturb me or dismay me, for God never changes and he alone will suffice. Some days that's a tall order that must be shored up with intentional gratitude.
Read more:
On Thursdays, Our Family Gives Thanks In All Circumstances
There is an ease as expectations become more realistic. Truths are easier to embrace; I am no longer as strong and sturdy as I was a mere decade ago, and that is not discouraging. I can still do many things by taking my time. I'm no longer on a march to accomplish tasks, and can stop and take in ordinary beauty.
Read more:
Bird-Watching and the Breathtaking Personalism of God
I can share my walk down the midway of what was once my carnival in life, and laugh at the young who are shocked that my adventures are much the same as theirs. It is laughter that brings me the greatest joy, especially when I no longer have to take myself or others so seriously; I've become perfectly fine, as have they.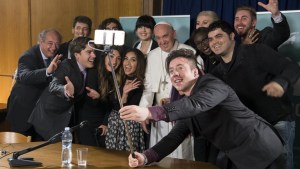 Read more:
Young people, break your mirrors! Know how to laugh at yourselves! Pope Francis recommends



And there is the joy of blessing others by letting them bless me, as Abraham did in Genesis 18. I'm finding, to my great delight, everybody just loves to help a short little gray-haired lady!

One more joy of aging…I can happily sing along (out of tune and with great abandon) with

Audrey Assad

, the hymn "Abide With Me":

Abide with me; fast falls the eventide;
The darkness deepens; Lord with me abide.
When other helpers fail and comforts flee,
Help of the helpless, O abide with me.
Swift to its close ebbs out life's little day;
Earth's joys grow dim; its glories pass away;
Change and decay in all around I see;
O Thou who changest not, abide with me.
I fear no foe, with thee at hand to bless;
Ills have no weight, and tears no bitterness.
Where is death's sting? Where, grave, thy victory?
I triumph still, if thou abide with me.
Hold thou thy cross before my closing eyes;
Shine through the gloom and point me to the skies.
Heaven's morning breaks, and earth's vain shadows flee;
In life, in death, O Lord, abide with me.
Abide with me.
Abide with me.