Most parents will relate to this painfully truthful description of a family 15-seater van.
What can God do in your life with one Bible verse a day?
Subscribe to Aleteia's new service and bring Scripture into your morning:
Just one verse each day.
Click to bring God's word to your inbox
As many parents can appreciate, when kids come along we usually forget being too precious about our cars. And as the number of kids grow we're lucky if we can even find the keys to the car. So recently when a dad-of-nine tried to sell his tired and well-used 15 passenger van on Craigslist, he reaped the rewards for posting an all too honest, and relatable, account of his vehicle's condition.
From the lengthy description, it almost seemed like the dad, Josh Wood, was trying to dissuade people from being interested in the van: with its missing speakers (whose holes have been filled with chicken nuggets over the years), scuff marks, dents, scratches, cracked windshield, broken door locks and more. In fact, he states: "Better yet, if you're wondering if some particular part of the van works, just assume it doesn't work in the way that Ford originally intended it to work."
There are also some great moments of nostalgia when he openly mentions the fact that each of his nine kids has, at some stage, thrown up in the van. Wood directs readers to his blog where he describes, in greater detail, one particular journey to College Station during which his kids took it in turns to projectile vomit. We loved his "shout out to Xtreme Auto Re-Styling Center for tackling a level of depravity unrivaled in the world of passenger transport." Luckily, the "van is clean now; but, it will probably always be inhabited by the ghost of vomit past," he writes.
Trying to find the right asking price, Wood referred to the Kelley Blue Book, opting for the lowest overall description of "fair," adding: "I chose 'fair' since 'sad' was not an option. I've adjusted my asking price accordingly."
He then proceeds with his own Q&A, which is enough to put any potential buyer right off. The first question he poses is: "Have you performed all proper maintenance and religiously changed the oil every 3,000 miles?" which he answers with: "[laughter] No. No, I have not …"
So you may be wondering if Woods, who says on his blog that he "follows Jesus," managed to sell the family's weary van, and the answer is yes! He posted an update saying that he's waiting for the deal to go through and if it doesn't, he's got a waiting list of potential buyers. He ends his update with: "Also, I've been asked by a number of wonderful people if I will leave the post up for awhile after the van is sold. Yes, I will. God bless!" It's definitely worth a look while it's still there for inspiration and a good giggle. And remember in times of doubt, honesty truly is the best policy.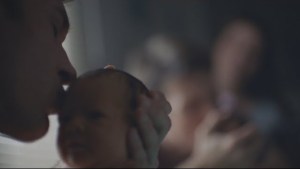 Read more:
The best ad of the summer (really!) will have you weeping