Are you sure you know what this serious illness is all about? Here's some clarity ...
What can God do in your life with one Bible verse a day?
Subscribe to Aleteia's new service and bring Scripture into your morning:
Just one verse each day.
Click to bring God's word to your inbox
There is a popular misconception that anxiety and depression are signs of weakness and inability to face life. However, emotional and psychological problems are not synonymous with weakness or vulnerability. Emotional problems aren't a choice, and nobody wants to suffer depression, nor experience periods of anxiety. These situations may simply arise as the result of an accumulation of situations or of complex circumstances. Science has shown that it is a real health issue, and fortunately, effective treatments exist.
However, depression continues to be a problem on a global scale. The World Health Organization (WHO) estimates that more than 300 million people in the world suffer from depression. Suicide, usually the result of serious depression, is the most common cause of death among young people between the ages of 15 and 29. The WHO also cites depression as a leading cause of ill health and disability worldwide. Women are more likely to be affected than men.
Misconceptions about depression
Despite being a frequently-used term, there are misconceptions, confusion, and prejudice surrounding this mental illness. Here are some of the most common myths:
It's just a bad mood. Depression isn't "just" anything; it's an illness, and it needs to be treated clinically. Not every bad mood is depression, either — a diagnosis of depression implies a disproportionate intensity and/or duration with regards to the perceived cause.
Depression isn't that serious a problem. Actually, if it is not treated in a timely fashion, it can evolve into grave situations such as suicide.
It's just sadness. Sadness is an emotion that we have all felt many times, and which, without a doubt, we will continue to feel throughout our lives. It's a natural emotional response to specific events (material or affective loss, difficulties at work, in our family, or with our spouse, etc.) or to biological problems (hormonal imbalances, pain, illness …). However, it's important to remember that there is a significant difference between the symptoms of sadness and those of depression. We need to be alert to detect if a state of sadness has no logical cause, and above all we must be attentive to the frequency, intensity and duration of this emotional state.
The main symptoms of depression are:
– Disturbed appetite and sleep
– Lack of energy and constant fatigue, and sometimes irritability as well.
– Feelings of low self-esteem and of guilt: "I'm worthless, I don't think I can get over this, my life is meaningless …"
– Difficulty concentrating or making decisions
– Lack of interest. Activities that used to be enjoyed are no longer interesting. A person with depression may even lose interest in important people in their lives: their spouse, children, other family members, etc. Often, the person "isn't in the mood for anything" and tends not to get out of bed or leave the house.
– Recurring thoughts of death or suicide.
It's also important to know that there are different degrees and kinds of depression (recurrent depressive disorder, major depressive disorder, bipolar depressive disorder, etc.). A mental health professional is needed in order to determine whether or not someone is clinically depressed, what kind of depression they are suffering, and how to treat it.
May factors play a role in depression. Suffering from depression isn't a sign of weakness or fragility; due to its complexity, if you are suffering depression it's best to seek the assistance of a psychologist for treatment, for your own safety and quality of life.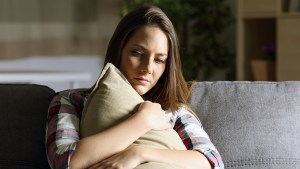 Read more:
Depression: How to recognize and deal with it
Read more:
How the language we use contributes to depression and anxiety