About a third of the Successors to Peter have been formally raised to the altars.
Of the 266 popes we've had since St. Peter (including Pope Francis), 82 have been recognized universally as canonized saints. Every one of the first 35 popes was canonized; 31 of them were martyrs.
When Paul VI was canonized, he became the 82nd canonized pope. Prior to his canonization, the most recent to have been canonized were Popes John XXIII and John Paul II, in 2014. Most recently, Pope John Paul I was beatified in 2022, which is one step away from canonization.
Interestingly, of these 82 saints, only eight have been canonized since the 11th century. Regarding that number, we should remember that during the Church's first 1,000 years, there was very little formal process in place for the canonization of a saint.
Those eight are:
Pope Benedict IX (#142); Pope Gregory VII (#156); Pope Gregory X (#193); Pope Pius V (#224); Pope Pius X  (#256); Pope John XXII (#260); Pope John Paul II (#264); and Pope Paul VI (#262).
After the first millennium, the Church began to develop an orderly process for determining the qualifications of those presented for sainthood. On July 4, 973,  Pope Benedict VI canonized Bishop Ulrich of Augsburg. St. Ulrich thus became the first person canonized by a pope.
In the year 1243, Pope Gregory IX affirmed that only the pope had the authority to declare someone a saint. This is still true today, though it should be noted the pope's special role in a type of canonization, called "equivalent canonization," when a pope simply confirms a devotion to a saint who is already well-established in the Church. This equivalent canonization was the case of the Jesuit Pierre Faber (1506-1546) recognized by Pope Francis in 2013, or of Hildegard of Bingen, recognized by Pope Benedict XVI.
The 1917 Code of Canon Law stated that a cause for sainthood could not open until 50 years after the candidate's death. Pope John Paul II shortened that time frame to five years. On occasion, that time period can be skipped or shortened, as Benedict XVI did when Pope John Paul II passed away.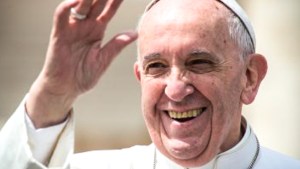 Read more:
Giving your life for another can lead to canonization, pope decides
The average waiting time for a person to be canonized after death has been around 180 years. Pope St. John Paul II was canonized just nine years after his death.
Let us meet some of the popes who have been canonized and who have stood tall throughout the centuries protecting, and many times dying in defense of, the Church founded by Christ Himself.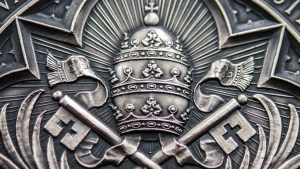 Read more:
These popes held their offices for a pathetically short time
— Pope #2: St. Linus (67-76)  St. Linus was preceded only by St. Peter. The office was entrusted to Linus by both St. Peter and St. Paul, after the Christian Church had been established in Rome. The actual duties and responsibilities entrusted to Linus are somewhat vague because the Church hierarchy was still being established. It is known that Linus was martyred and that he was buried close to St. Peter. His name is mentioned in the Roman Canon. St. Paul also mentions Linus in his Second Epistle to Timothy.
— Pope #3: St. Cletus (76-90)  Pope St. Cletus is also known as Anacletus. Tradition has it that Cletus divided Rome into 25 parishes and ordained an uncertain number of priests. Cletus is also mentioned in the Roman Canon. There is no record of Cletus being martyred and he is buried near his predecessor, Pope St. Linus.
Read more:
Now that's a lotta saints! Vatican's "saint-maker" to retire after 913 canonizations
— Pope #4: St. Clement I (88-99) He was born in the year 35 and became pope sometime between 88 and 90. He was consecrated by St. Peter himself. St. Paul mentions Clement in his writings as a "fellow-worker," so it is obvious Clement was deeply involved in the formation of the early Church.
St. Clement is called the first Apostolic Father. The Apostolic Fathers are those who lived in the 1st and 2nd centuries and were known to have learned from the original Twelve Apostles.
Pope St. Clement, having known both St. Peter and St. Paul, wrote about much of what these two great apostles said. Among his writings, we find the teaching that the Apostles had the authority to ordain new bishops, thus setting the groundwork for the Church hierarchy.
Clement was martyred by being drowned at sea in the year 99.
— Pope #64: St. Gregory I (590-604) aka St. Gregory the Great: As the Roman Empire roared toward its demise the popes in power had refused to despair. They accepted that their mission was to ultimately convert the pagan warriors and work toward a peaceful Christian society. A new social order was being born.
Throughout the crumbling Roman Empire, hoards of barbarian tribes had conquered. The continent was in disarray. Enter Pope Gregory I. A man of true genius, deep spirituality, and immense energy, Gregory would set the papacy on a course it would follow throughout the Middle Ages.
Born into wealth in Rome, he became prefect of the city and then suddenly, abandoned the material world. He spent his wealth in founding monasteries and even converted his own palatial home into one. He lived a life of asceticism and then, when asked, took the job as papal envoy to Constantinople. When the Chair of Peter became vacant in 590, the people of Rome pressured Gregory to accept the position. He did and before his life ended he had laid the foundation for medieval Christendom.
Pope St. Gregory I is known as the "Father of Christian Worship" because of the time and effort he put into revising Roman worship (Gregorian chant is named after him). He is a Doctor of the Church.
Gregory the Great is the patron of musicians, singers, students and teachers.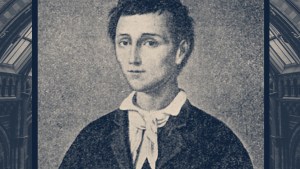 Read more:
Teenager to be canonized with Paul VI and Oscar Romero