Have you ever noticed how much working the body helps you to understand the soul?
What can God do in your life with one Bible verse a day?
Subscribe to Aleteia's new service and bring Scripture into your morning:
Just one verse each day.
Click to bring God's word to your inbox
This past week, I turned 52 and made a goal to lose 20 pounds before my next birthday. The following day, I stepped on the scale to find birthday cake and weight loss do not pair well — not that that came as a surprise.
So the following day, I laced up my shoes and ran — only downhill, walking the rest of the way. I did it again the next day.
I often find exercise routines and regimens lend themselves to the discovery or deepening of spiritual truths. If we want to grow in holiness, we must "will it."  We must do what we did yesterday again, and again the following day, and persist even when the feelings or inspiration isn't there. We must push past barriers, mental and spiritual, and physical. We must train with those who know better than we do, and we must continue deepening our understanding as we go, trusting that there's always more to learn, and each day brings with it new challenges to our souls, as it does to our bodies.
This isn't just my brain's associative thinking. Here's a list of spiritual truths to learn from the time we spend in our sneakers:
Stretching before you begin. Theoretically, everyone knows we should warm up before trying something new. That's true in our prayer life as well. The whole Rosary every day might be intimidating if you've never had a habit of prayer. Maybe the Divine Mercy Chaplet is a good starter prayer for someone looking to develop those spiritual muscles.
Set a routine and stick to it. Well, that seems obvious. The easiest way to fall out of a habit is to not make a routine. The easiest way to start a better habit is to set a routine and not change it up for anything until it's ingrained in the heart and the head and the body. This will happen. Praying at the same time of day each day helps one to not forget to pray, as does prayer before meals, and prayers before bedtime. The routine is there because we need routine, just like we need schedules and lists, to get things done.
Have a partner. In exercise, the partner helps you stay accountable and on routine. In prayer, you reap the same benefit. My Fitbit has regular challenges where we try to outpace each other with steps. In prayer, it's more of a joyful collusion than a competition.
Read more:
This very common yet harmful vice has become epidemic. Thankfully, there are many ways to fight it.
Drink plenty of water. Okay, this one doesn't quite fit, except that Jesus thirsts for us. Let us each give Him plenty of our souls to drink.
Don't expect immediate results. Getting in shape, whether physically or spiritually, is a process of becoming healthier. We're always moving either closer or farther away from God by our actions and inactions. We won't wake up one day and be "holy." We begin listening to God because we want to hear what He has to say to us, rather than merely wanting to give God our wants and our needs. We might forget the day afterward and go back to our list of wants, but we'll eventually find ourselves no longer anxious about many things, and willing to sit before Christ and listen.
Get good counsel from experts. The Church offers us saints and their writings, Scripture, the sacraments, and the Catechism itself. These are experts who can help us to grow in holiness. The saints lived lives that involved conflict and struggle, trials and errors, sins and grave faults. They know what we face, because they've faced it as well. Their words and their lives reveal that we can come from anywhere and any place, and find ourselves in the joyful presence of our Lord.
Read more:
8 Irrefutable reasons you need a spiritual director
Persist. Exercise works because one consistently works at it. Relationships work the same way, even our relationship with God. Growing any relationship takes time, and requires we give of ourselves again and again and again. The great thing is, God will always give us more than we offer. So persist in offering yourself and trust in the process.
~
In the home stretch of my workout, I came upon a man walking a puppy.  I stopped to give it a happy pat and we talked dogs. "Good luck with your running," he said.
"Oh, this is only my second day of trying to get in the habit of exercise."
"Well if it helps," he said, "I've had one thousand second days."
The thought of "beginning again," and being okay with the reality that each day we can begin again, is a constant reassurance of the Church, and God himself, as indicated by all the sacraments of healing.
The encouragement from my neighbor walking his dog heartened me enough to add an extra side street to my run, and I know I'll remember it tomorrow when the 6 a.m. alarm rings. In every endeavor of life, we have before us the opportunity to begin again in all the areas where we need to start over, if only we will will it.
Lace up, and get to work.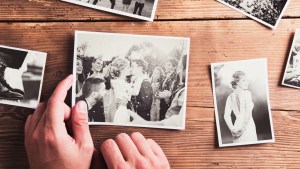 Read more:
Why nostalgia ruins marriages … and why it makes us disenchanted with our Church