The friendship between 4-year-old Daniel and 91-year-old Stuart is a gift to them both.
Need an idea for Lenten almsgiving?
Help us spread faith on the internet. Would you consider donating just $10, so we can continue creating free, uplifting content?
Make a Lenten donation here
I've noticed the timidity of my and some of my cousins' young children around our grandparents, and it saddens me, because I know elderly people take such immense delight in little ones, especially their own great grandchildren. But the fact is, many young children are frightened by people in their old age, or those with disabilities. It's something Natalie Holmes wanted to avoid this in her son, Daniel, so when he was just 18 months old, BBC explains that she began bringing him to Nottingham's Acorn House care home to spend time with the patients.
It wasn't long before Daniel struck up a heartwarming friendship with a dementia patient named Stuart and a few years later, the two of them are still close companions. They visit with each other every week, embarking on various day trips together, such as feeding ducks at a pond, as shown in the adorable video.
Natalie remarks that she's noticed an improvement in Stuart's degree of dementia since he first began spending time with Daniel. "It's … enabling him to have an more enriched time," she notes. Her decision to immerse her son in an atmosphere where elderly people dwell is invaluable for two reasons: Not only does it warm the hearts of the residents to have a child in their midst, but it also provides Daniel a level of comfort around people in their old age that many children do not naturally have.
It's a unique, multifaceted gift that few parents think to give.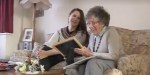 Read more:
This program that pairs up unlikely roommates is curing loneliness