Research shows that summer has an impact on our moods, and it's not always positive ...
Know how on those really hot, muggy days, you feel like you can hardly string two thoughts together? It's not your imagination, and it's not because you're a wimp. There's actually a growing body of evidence that says the heat makes us, well, stupider. If we're not used to it, that is.
As a piece at NPR explains, students in a building 10 degrees warmer than usual had "slower reaction times," and on average, their test scores dropped by 13 percent. That could easily be the difference between a pass and a fail.
But a heat wave doesn't just make you dumber and slower, I'm afraid. It also seems to make us angrier and more impulsive, and sometimes, even depressed. (A small portion of people with Seasonal Affective Disorder, usually characterized by depressive symptoms throughout the winter months, have their symptoms in reverse, and suffer most in the summer.)
As a mom, I was utterly unsurprised by the stats. If I were graphing instances of tantrums in our house, I just know I'd see a sharp spike that follows the thermometer. Boy, and I used to think of summer as such a fun time!
I mean, summer really is a fun time. It's awesome not to be cooped up in the house, and I thrive on all the dirt and sand and popsicle juice that comes along with the season. But you know how we mentally prepare ourselves for winter? We'll brace ourselves for those longer, darker days, and make a plan to get our families through without everyone dropping dead from cabin fever? I'm thinking we need to prepare our families for the summer months, too.
When you know that a heat wave makes you more likely to snap at your family, to be more tired and less creative, and way less patient, you can at least ease up on yourself a bit, and cut everybody a little more slack.
So, that thing that your spouse has been doing, that's been driving you crazy? Probably not the best time to bring it up. If it can wait till the heat breaks, maybe shelve it for a few more days. Kids bickering more than usual? At least you know why, which means you know it'll pass. And you — are you just uncharacteristically exhausted? Do yourself a favor and don't berate yourself for being lazy. It's probably just the heat. Even if you're not generally great at self-care, this is probably the time you need it the most. Hydrate the heck out of everyone — even if that means drinking lemonade by the quart — and don't feel bad about watching enough Netflix to keep everyone sane.
It's great to have high standards, it really is. But it's also great to be realistic about the toll that a heat wave takes on you and your family's body and brain. It's a much bigger challenge than most people know. So if you find yourself in a total funk when the temperature rises, make sure to take care of yourself, and don't forget that it'll pass.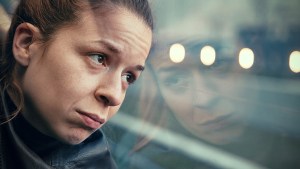 Read more:
6 Ways to combat Seasonal Affective Disorder (SAD)