Modern kids face a different, scary set of stressors than we did growing up -- and it's important to talk about it.
When I was going into 7th grade, these were my major concerns: if my bellbottom jeans were "bellbottomy" enough; if I would find the perfect Lisa Frank Trapper Keeper at Walmart since I hadn't found it at Kmart; if my forehead would stop breaking out for a week at least before school started; which color bands I should get on my mouthful of braces to celebrate the start of a new school year.
That was it. That was my entire world of pre-teen concerns, concerns that I'm sure were deeper and more complex than what I remember, but which, in hindsight, seem relatively trivial.
For my 12-year-old, the world is different.
Here are her major concerns: if she will get straight roasted for being the only 7th grader in the known universe to not own her own iPhone; if she will encounter yet another bully who will make her school days waking nightmares; if she will be shamed and made fun of for being "fat" because she's not a size 2; if boys will pressure her to send naked pictures; if she will be shot in the head on a Tuesday morning.
See the difference? I'm sure you do. So does Forbes, who recently posted an article about the difference between back-to-school stresses now and when we were kids.
When I think back to my youth, I can remember the butterflies I got in my stomach as we pulled up for my first day back to school. Did I get the right v-neck sweater from The Gap? Were my bangs teased enough? Was Mrs. Carroll going to put me on the spot in math class? These used to be the important issues, and finding out I didn't have the same lunch period as my best friends felt like the end of the world.

Today's kids, however, are facing very different issues and, as parents, we have to be prepared for that. We can't just give them the same pep talk we were given in our childhood. It's not easy for any of us to talk about but these are the issues facing our children every day. Don't downplay them. Face them head on — together.
The Forbes article goes down the list, highlighting all the major stressors facing our kids and how significant they are compared to the stressors we faced as teens and pre-teens.
In the end, though, their advice is solid. It's also the same common sense that most parents have followed for years, and it boils down to one essential element: Don't lie to your kids.
Don't tell them that everyone they meet in school will like them and be nice to them. That's a lie — some kids won't like them. Some teachers won't like them. And no matter where they go in life, someone will be unkind.
Don't tell them that what their friends post on Instagram and Snapchat doesn't matter. Don't tell them that it isn't real and that they can ignore it — Instagram and Snapchat are the new school playgrounds. The things that happen there are real, and they do matter — sometimes they matter so much that kids kill themselves.
Don't tell them that they're safe. They are not safe. If we have learned anything in the 19 years since Columbine, it's that our children are not safe in school. It doesn't matter what school or where — even kindergarteners in an affluent school in Connecticut are not safe from being shot and killed in their classrooms on a Friday morning.
Here's what you should tell them instead: tell them that some people won't like them, and not everyone will be nice to them. That will happen their entire lives, but they can't control other people … all they can control is their own reactions. So teach them to be kind anyway, to return anger with kindness, and then to move on with their lives.
Tell them that what they're seeing on Instagram and Snapchat might be real, but it's only one real moment in someone's messy life. Remind them that the person who looks perfect in all these captured "moments" has also spent time crying on their bed, or in their closet, or face-down in a pint of ice cream. Remind them that no human is perfect … and then make them laugh by reminding them that everybody poops. It might be crass and silly, but it's true — and it's a necessary and effective antidote to the filtered perfection of social media.
Finally, tell them that it's true that they're not safe in school — but it's also true that they're not safe anywhere. Guns are a way of life in America, and that's not a thing that can be changed quickly. But just like bombs falling from the sky was a way of life for Londoners during the Blitz, we really only have one choice — to carry on with life while fighting the good fight to change the laws, change the landscape, and change the world.
It's not a bedtime story with a happy ending, but it's much more comforting than that — it's the truth that our children want, and need, to hear from us.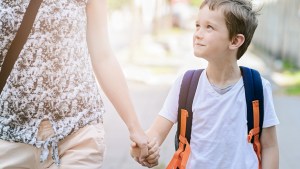 Read more:
8 Tips to help children manage their back-to-school anxiety