You can tell your child no without actually pronouncing the word and sending a negative message.
What can God do in your life with one Bible verse a day?
Subscribe to Aleteia's new service and bring Scripture into your morning:
Just one verse each day.
Click to bring God's word to your inbox
It's as true for kids as it is for adults. Beginning what we say with "No" or "Don't" means initiating our communication negatively, the exact opposite of what our mind and heart want to hear, which is positive motivation.
Many mothers and fathers tend to say don't quite frequently to their children: "Don't get on the swing," "Don't open that box," "Don't leave anything on your plate," "Don't climb up," "Don't jump down," "Don't go in," "Don't go out" …
The fact is, saying no and don't too often will send a negative message to our children, in the same way that parents who say yes all the time may end up spoiling their kids, as well as setting them up for frustration later on when they run up against assorted prohibitions in real life. Education in resilience begins at home.
Ideally, there should be balance between yes and no — or better yet, we should learn to say no to our children in a positive way; that is, without actually pronouncing the words no or don't.
Saying no to kids in a positive way is definitely possible, and is much more beneficial for them. To achieve this, we can:
Suggest something else they can do. If we can't go to the park, we can cook at home, play board games, paint …
Postpone the request until it can be done later on. If we can't do what they want the moment they ask, we can leave it for later — but we have to remember to carry through with it.
Explain what will happen if they do what they want. "If you hit your brother … If you break the toys … If you hang out the window …" there can be consequences, and we need to explain that to them.
Make the rules clear. Before the time comes to tell them they can't have candy, or they shouldn't jump into puddles, or they can't watch more TV today, we have to explain to them the house rules and the reasons for them. In this way, they will already know the answer without having to ask.
Positivity in dealing with other kids
When we apply positive strategies like these, children benefit in various ways. One of the clearest is their interaction with other children (siblings, cousins, classmates, friends, etc.). When they perceive a positive environment in their own family and interact using constructive and, above all, assertive communication, children will imitate this model when relating to other children their age. In this way, indirectly, the overall picture improves, and healthy ties are created.
The power of humor to make things less dramatic
Save that hard and over-the-top no for the most extreme cases. Sometimes it's necessary, but in most circumstances, try to learn to use humor. Children are children and need to laugh and play. They aren't adults. When they are upset or confused, there's nothing better than humor to drain the drama from the situation and teach the kids to laugh at themselves.
We need to accept that everything in life requires practice and learning. No one is born already knowing what to do! Educating positively makes things much easier and helps create better citizens for tomorrow. The secret lies in being patient and proactive.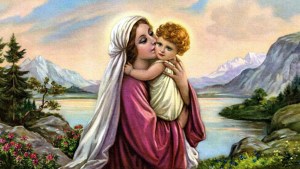 Read more:
4 Parenting tips from Mary's example for when you feel discouraged