The Pease brothers have forged an incredible bond on their journey to Hawaii this fall.
You can get Aleteia inspiration and news in your inbox. Our specially curated newsletter is sent each morning. The best part? It's free.
Sign up here
When Brent Pease competed in his first Ironman triathlon in Florida in 2010, his younger brother, Kyle, was there with the rest of his family and friends to cheer him on from his wheelchair. Kyle has spastic quadriplegia cerebral palsy. It's the most severe of the three types of neurological condition, because it's marked by the inability to use the legs, arms and body. But it didn't stop Kyle from asking his older brother after the race if disabled people were allowed to enter Ironman triathlons too, according to a profile of the brothers in USA Today.
"Absolutely," his brother responded.
That day, a the brothers began a new journey that has taken then around the country over the next several years competing as a team, first in running marathons, eventually culminating in Ironman triathlons with the goal of one day making it to the ultimate race: The Ironman World Championships.
The brothers were always close as kids, playing on the same baseball and sports teams. Kyle has always had physical limits, but Brent has never really seen it that way. When they were little, Brent would carry his younger brother downstairs in the morning to watch cartoons, even if it was against the family rules. A wrestling match on the couch was never out of the question, either. If they were rarely apart as kids, this mission has made them inseparable, literally.
Brent himself trains for the event, which includes 140.6 miles of running, swimming and biking, seven days a week; his brother joins him for two of those in specially adapted bicycles for each land event (Brent pulls Kyle in a raft for the swim portion of the race).
"One of the reasons I race is always next to me, or in front of me," Brent, 35, says in a recent Humankind video. "And we keep pushing the bike forwards."
"And the journey is so sweet because we get to spend 17 hours together," adds Kyle. "It definitely tightens our bond."
The brothers have also started The Kyle Pease Foundation to raise money for equipment and resources for other disabled people to realize their full potential through sports and athletics. Tons of photos of disabled athletes whom they've inspired can be found on their Instagram page.
There's no doubt that Brent assumes an extra load with his brother by his side in races, and that the results of his races and success might be very different as a solo competitor. But the brothers' mission is about so much more than the glory of winning races, or even overcoming obstacles.
In order to earn a spot in the Ironman World Championship, competitors must clock a certain time at a qualifying events. At a recent such even in Louisville last June, Brent and Kyle fell short of that time. But after crossing the finish line they received a surprise: the brothers were awarded an Ironman Ambassador Athlete slot, allowing them to compete in the Ironman World Championship this October 13 in Kailua-Kona, Hawaii.
Watch this video to see the touching moment … and to take Kyle's words to heart: "We just want to give people hope that they can do anything that they put their mind to."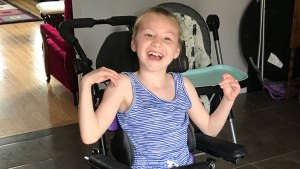 Read more:
This girl's cerebral palsy didn't stop her from saving her brother's life