These difficulties are by no means insurmountable, but require time, energy, and patience.
What can God do in your life with one Bible verse a day?
Subscribe to Aleteia's new service and bring Scripture into your morning:
Just one verse each day.
Click to bring God's word to your inbox
When it comes to marital intimacy and reproductive choices, married couples are encouraged to prayerfully consider, in light of God's revealed plan, the legitimately good options they have available to them, taking into account their strengths and weaknesses to begin and grow their family. Considering the proven benefits of embracing the call to natural family planning, respecting together the natural cycles of fertility of women, does not mean that the couple will not face some challenges. Here are some of the most frequent difficulties couples may experience.
1. Lack of support from health professionals
Doctors are usually the first in line to accompany couples during the different reproductive stages of their lives, including planning a pregnancy. Yet one of the most common problems that surface when couples want to follow a natural method of conceiving a baby is the lack of information and support from doctors. When choosing the natural means of reproduction and family planning, it's important to find the medical professionals who understand its value and share the same views regarding healthy gynecological and reproductive choices. In addition, especially for younger couples who are in a state of "apprenticeship" when it comes to starting their families, the accompaniment of specialized professionals such as natural family planning instructors and fertility mentors is crucial.
2. Abstinence from intercourse
The need for sexual expression and for intercourse are not uncontrollable impulses. However, learning to relate in a way that does not involve genital expressions is a very common challenge for couples who wish to embrace natural methods of reproduction. They must learn, or relearn, the value of abstinence. This is especially true for those who have had a long history of contraceptive use. The good news is that exercising brief periods of prayerfully agreed upon sexual continence is a great and a unique way of creating an intimate bond with the other. Natural family planning, a natural method of procreating, spacing, or avoiding a pregnancy for the time being, invites the couple to develop a meaningful and integral sexuality. By avoiding genital contact periodically, there is a natural tendency for the couple to communicate in other ways and develop other areas of the relationship that are part and parcel of the foundation for a lasting marriage. When contraceptive methods are introduced, this deeper dialogue, bond, and intimacy are absent or diminished – contrary to popular belief.
3. Lack of participation, cooperation, or shared responsibility by one of the spouses
When respecting natural cycles of fertility becomes solely an individual task, difficulties begin to surface. The natural method is a shared method; therefore, the participation of both the husband and the wife is irreplaceable. While each makes a personal contribution according to their own potentialities as a man or a woman, the foundation for natural methods is shared participation and equal responsibility for obtaining mutual knowledge of and respect for their fertility.
4. Dedication to learning the method
Any new thing we face in life requires a period of learning. If a couple does not take the time to get to know each other and to internalize that knowledge, anxiety can lead to real problems in properly implementing the natural method. It is not uncommon to see doubts or frustration arise in couples who are still acquiring a complete understanding of their fertility. Tracking, patience, and above all, keeping their motivation alive all play a fundamental role in their success.
5. Experiencing changes in their fertility cycles
Another set of challenges that some couples may face includes those related to extremely irregular menstrual cycles or when changes occur in their reproductive life due to breastfeeding or perimenopause, and even due to changes that come within a year of ceasing to use contraceptives, which includes changes to a woman's menstrual cycle. Acquiring sound "sex education" that thoroughly explains the different reproductive stages and the situations in which the cycle can change, including early ovulation or the effect of stress, is indispensable knowledge that must be sought and taken into account by the couple if they are to fruitfully and correctly exercise natural methods with confidence and peace, despite the challenges.
6. Discussing topics that have never been discussed before
The natural method of sexual expression, intimacy, and procreation promote an experience of sexuality that is lived out in all its inter-related human dimensions: physical, spiritual, psychological, emotional, and intellectual. If either one in the couple has not been formed and prepared in any of these areas or has focused only on one of these, they might find themselves now, for the first time ever, facing the reality of having conversations with their spouse that perhaps they never had with anyone before. It may be difficult to talk about certain issues if previously there was no or very little communication about fertility, sex, children, and shared projects – or if issues from either of their pasts had not yet come to the surface or had not been yet externalized.
7. Maintaining the habit of routinely observing and keeping a daily record
In a normal day full of family issues, household chores, and work responsibilities, one very common struggle that couples may face, especially when first implementing the natural method and lifestyle, is investing time and energy to form a new habit – the habit of incorporating fertility tracking into their daily agenda. The good news is that, in the long term, as a result of their shared fidelity to repetitive observations and record-keeping, their actions end up becoming a habit that is easy to implement. And there are some mobile applications that can help couples quickly chart their fertility observations.
8. Not feeling 100 percent sure or confident about using them
When fertility and reproduction – or prevention thereof – depend on external methods and objects such as a pill, a device, a condom, or an injection, trust is placed in what the marketing experts of these products tell us. The truth is that no method, whether natural or artificial, is 100 percent effective in preventing all pregnancies. The success rates for each may be high, but we know that there is always a possibility that, the moment a fertile couple has intercourse, a pregnancy may occur. For these reasons, barring adopting complete abstinence as the only infallible method, insecurities may arise among couples, but it usually has more to do with ignorance about human biology than anything else. Confidence grows when responsible natural family planning is implemented, which does require experience and which becomes more reliable with use – and there are, in fact, several reliable natural methods. The important thing is for the couple to find one that works best for them.
Many resources are available online. For example, for more information, visit Natural Womanhood.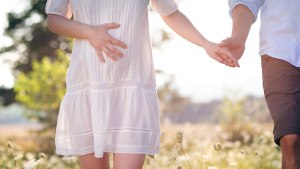 Read more:
How NFP reminds me that pregnancy is a not a solo endeavor