Merle and Stella will remind you of the beauty of marriage and family.
Send us the names of your loved ones who are sick or suffering. The Aleteia prayer network of 550 monasteries will take them to prayer for the World Day of the Sick.
Click here to share your intentions
At 101 and 95 years old respectively, Merle and Stella haven't lost their sense of humor yet. They were married just three days after Stella's 17th birthday, and this year they celebrate 79 years of marriage.
After Merle moved into a nursing home and had a bad experience, Stella insisted that he move back home so she could take care of him herself. With the help of their grandchildren and neighbors, Merle and Stella are going strong in love, life, and laughter.
"I'm happy and he's happy," Stella says, "and when he's happy, I'm happy."
Merle responds, "I'm happy when she's around."
Watch the video below to see the interview with Merle and Stella. In an age that can be so suspicious of romance and marriage, their commitment and longevity is a beautiful reminder that it's not youth or success that make a life, but our family and the love we give.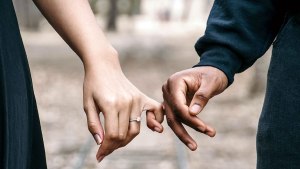 Read more:
2 Secret weapons that can renew your marriage