Pope with Irish flag and with Knock Shrine to accompany August trip for #festivaloffamilies
Twitter is rolling out special emojis for Pope Francis' visit to Ireland this month for the World Meeting of Families.
The Irish Daily Mail reported that the emojis can be accessed with the hashtags #popeinireland, #pápainÉirinn, and #festivaloffamilies. They will include an image of Francis in front of the Irish flag and in front of the Shrine of Our Lady of Knock.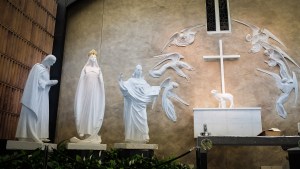 Read more:
Who is Our Lady of Knock? The silent apparition
There were also special Francis emojis created for his 2015 trip to the United States.
Francis will have a quick two-day trip to Ireland, which will include a celebration of the closing Mass of the World Meeting of Families on August 26.