What happens when a mother visits the pregnancy center that impacted her decision not to abort her daughter.
What can God do in your life with one Bible verse a day?
Subscribe to Aleteia's new service and bring Scripture into your morning:
Just one verse each day.
Click to bring God's word to your inbox
Each day at the pregnancy center where I work, we start with a brief prayer for the clients, situations, and encounters God places before us that day.
Last Thursday was quiet. We had a couple of pregnancy tests, a young mom coming in for a car seat and some baby clothes and diapers. Two or three people dropped off donations of maternity and baby things. We'd had no dramatic baby saves and no heartwrenching abortion-minded clients leaving our center unpersuaded.
Mostly it was a lot of routine stuff we were attending to … phone calls, filing, sorting baby clothes, paperwork.
A young woman walked in with a small child as I was taking a call. Often a pregnant mother will come in with a toddler, so that wasn't out of the ordinary at all. I asked if she had an appointment, and how we could help her.
"I just thought it was about time I stopped by to thank you people. This is my daughter Robyn… you helped me to have her!"
I quickly told the caller I'd get back to her, and said to the mom and child before me, "What?! Oh, come in! I'm so happy you're here!"
The tears started as Chantelle sat down and shared her story.
She was just driving past Planned Parenthood, a block from our center, and happened to see "the same man praying out front that was there when I went for an abortion." She'd had no intention of stopping in to see us on her way home from vocational training classes this day, but when she saw him there praying again, and remembered how kind and compassionate he'd been, she decided to pull over.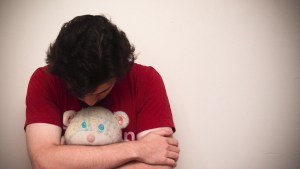 Read more:
A different kind of locker room talk: Abortion hurts men, too
"He's there right now, out front, praying with a few other people, just like he was that day I had an appointment. I just stopped to talk to him. He didn't remember me, but I remembered him. I said, 'This is my little girl. You saved her. You were here that day and you made all the difference. She's just so adorable … I love her so much!' And he was so happy to meet her!"
Robyn is 3 and clearly overwhelmingly loved by her affectionate and grateful mom. The heroic folks who pray in front of abortion centers often don't know the end result after they speak to someone. More often than not, the people they speak to, pray for, give their time and heart to, take the information and never report back about their decision. A lot of the time they walk right ahead into PP after cutting off the sidewalk counselors pleading to help them.
But that wasn't the case with Chantelle's encounter three years ago. "He talked to me, for a long time … He showed me on his phone the size of a three-month unborn baby. He said he knew people who would take my child and take care of her if I wasn't ready, and give her back to me if and when I was ready. He said God would help me, and that I would never regret having this child."
Chantelle mentioned the man's name and I recognized it, because now and then he stops by our office to get our brochures. While he's in front of Planned Parenthood praying, he often hands them out to women (and sometimes men, too) heading inside, or even to people walking past, so they know they can come to us for help. Three years ago he gave Chantelle one of our brochures, and pointed out our building, visible a block from Planned Parenthood. She walked over and came in to talk to us that day, three months pregnant, still contemplating abortion.
After a pregnancy test confirmation, we got Chantelle a free ultrasound, and talked to her about her future, and about the risks of abortion. We offered her maternity housing if needed, maternity clothes, adoption guidance if she desired, baby things. She listened, but left our office that day saying she still wasn't sure.
We always continue to pray for our "undecided" clients. We always try to follow up, and continue to offer guidance and material things when needed. But, they don't always return our calls, and they don't always give us the right number. Sometimes they hang up on us. We'd been unable to get back in touch with Chantelle, and so for three years her joyful decision was unknown to us, and to the sidewalk counselor outside of Planned Parenthood.
How fun it was to meet precious Robyn, and to find some clothes and toys for her, and even the next size car seat that she needed. We hugged her beautiful mom as she told us she would do anything she could to help other mothers make the right decision. "I would just tell them, 'You will always be so glad you have this child … you have no idea how much you will love her!'"
Read more:
Pope Francis explains why we must always welcome the unborn