Understanding the type of head pain you have is the first step in treating it.
What can God do in your life with one Bible verse a day?
Subscribe to Aleteia's new service and bring Scripture into your morning:
Just one verse each day.
Click to bring God's word to your inbox
Headaches may sound like a minor ailment to some, but for others they can be an unrelenting pain, preventing them from work, or from even just enjoying a sunny day. Unfortunately, research indicates that women bear the brunt of most varieties of headaches, including serious migraines. The Centers for Disease Control reports that 18 percent of American women suffer from migraines, primarily between the ages of 25 and 55.
Thankfully, treatments for these head pains have advanced by leaps and bounds over the past 30 years; when I was first treated back in junior high, there were only a few categories of medication to even try. But today there are not only a wide array of pharmaceutical options, there have been breakthroughs in natural cures, too.
But before you can find the best way to solve your headache, it's important to understand what's going on to cause your discomfort in the first place, and what type of headache you have. Dr. Clifford Segil, neurologist, of Providence St. John's Health Center in Santa Monica, California, explains that there are varying degrees of symptoms.
Many people make the mistake of calling all serious, debilitating headaches migraines, but that isn't necessarily true. "A migraine is usually a headache that's one-sided," says Dr. Segil. You might be bothered by bright light or loud noise, feel nauseated or even see things that aren't there. "If you have that constellation of symptoms then that's a migraine headache."
A tension headache is felt all over your dome instead of focused on just one side. It also doesn't have the extra symptoms like a migraine — it's just the pain. Sometimes these are also called stress headaches because they can be caused by clenching teeth or holding stress in your neck or shoulders.
Cluster headaches are the third main type, but these are actually seen more often in men than women. "It feels like a demon pulling out your eyeball," says Dr. Segil. (Ouch!) It's a very specifically located pain, she explains, because "the cluster headache is retro orbital, behind the eyeball."
So why does it matter that you identify what type of headache you're dealing with? Different headaches respond to different treatments. For example, breathing in concentrated oxygen can often get rid of a cluster headache, but it won't do much for a migraine or a tension headache.
Start a headache journal
While most headaches are not cause for alarm, knowing the types of headaches you typically have can also help you spot atypical headache behavior, which can be a sign of deeper trouble. So any time your headache problems change, you need to see a doctor. If you start getting more headaches, worse headaches, or have different symptoms, there's a chance of a brain tumor. A neurologist can do a simple in-office exam and order an MRI to look inside.
For these reasons, Dr. Segil recommends starting a headache journal as your first line of defense. Keep track of when the pain strikes, as well as what is going on at the time. Drinking wine or eating chocolate or cheese can all trigger migraines in some people. Simply paying attention to the times of day — or times of the month — when you get a headache can help you avoid some of the root causes of your discomfort.
Create some quiet time
There's a tried and true method of handling almost any kind of headache, says Dr. Segil. It seems old fashioned or even like a placebo, but lying down in a quiet, dark place for even five minutes can do wonders. "Modern living doesn't afford us the ability to check out," he says. "The problem is our jobs and our lives don't really let us do that. It's surprising how many people who are able to go to a quiet, dark place, headache pain goes down."
Meditation is also getting a lot of research attention lately, especially from Wake Forest University. Patients trained in a simple, self-directed form of meditation were able to decrease pain, lower blood pressure, and feel more in control of stress. Meditating might seem impossible when you are in the grips of a brutal headache, but practicing ahead of time can give you tools to fall back on when you really need it.
Take a natural supplement
Other non-pharmaceutical treatments for headaches that Dr. Segil recommends to his own patients include vitamin B2 or magnesium tablets. Some people get relief from chiropractors but others find their problems get worse, so you need to be careful and choose a knowledgeable provider.
See an acupuncturist
"I'm a fan of acupuncture," says Dr. Segil. "Acupuncture at one level, if you just put a needle in a muscle, it heats it up and when things heat up, they expand, which loosens things up." Dr. Segil likes to think of these approaches as complementary instead of alternative: see a traditional medical doctor and try out a variety of treatments, of all sorts, until you find something that works for you.
Try a new bedtime routine
Dr. Elizabeth Lombardo, psychiatrist and physical therapist, has her own list of go-to natural headache cures. You may already know that a good night's sleep can cure most everything, including a headache. Turn off all blue-light technology (like your TV or laptop) and put a large glass of water by your bed. Drinking enough water, especially as the weather heats up, can prevent a migraine from sneaking up on you.
Even sex can kill the pain in your head, though it may seem counterintuitive. "It is likely the chemicals released during love-making, such as the dopamine and endorphins, decrease the pain and help you feel better," explains Lombardo.
Essential oils can help; peppermint will improve circulation and decrease that clenched blood vessel feeling common in headaches. Lavender oil helps some people relax and melt away muscle tension, but others may actually get a headache from strong smells. So test out a small amount by rubbing an oil into your temple, or putting a light incense in your bedroom before settling down for a good night's sleep.
Stretch it out
You probably stretch your neck, rolling your head from side to side, when you feel the first pinch of a headache. Those upper neck muscles, right below your hairline, are a frequent spot for tension. Massage can help stretch them out, even if you just apply pressure yourself in 10-second bursts.
Dr. Lombardi recommends yoga-type exercise and stretching for both preventing headaches and handling them. "Try child's pose," she says, for that deep stretch and focused breathing. You don't have to go through a whole routine to benefit —just a short progression of stances can loosen your whole body.
If you've tried everything and can't seem to get any relief from natural cures, don't be afraid of considering prescription medications. You don't have to rely on strong pain killers to get through your headache. Dr. Segil notes a variety of different drugs that work to prevent migraines, like ones originally intended to treat seizure disorders and blood pressure. "If you have a straightforward migraine, modern medicine has a lot of tools. I help a lot of people with headaches." And when that sweet relief comes and the forehead pain clears? There's nothing better. "It's a rewarding thing to treat," Dr. Segil says.
For more trustworthy information and research about headaches, check out the Headache Cooperative of the Pacific.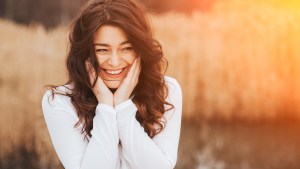 Read more:
9 Natural remedies for melancholy and anger from a 9th century German nun