This earthly pilgrimage is all worth it, and Mary shows us why.
According to the Code of Canon Law, there are 10 holy days of obligation in the universal Church, though very few countries or dioceses actually require the faithful to observe all 10. Certain areas have holy days other than those on the Canon Law list.
In most of the U.S. there are only five (in addition to every Sunday, of course): Mary the Mother of God, the Assumption, All Saints, the Immaculate Conception, and Christmas. Catholics in England and Wales are off the hook for Mary the Mother of God and the Immaculate Conception, but expected at Mass for Epiphany, the Ascension, and the Solemnity and Saints Peter and Paul.
For most of the English-speaking world, though, this Wednesday is a holy day of obligation: the Solemnity of the Assumption of the Blessed Virgin Mary, when we celebrate the fact that Mary was assumed body and soul into heaven at the end of her earthly life.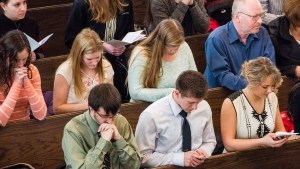 Read more:
What is a holy day of obligation? When are they?
At first glance, it seems an odd celebration to have made the cut. We aren't obliged to attend Mass on Mary's birthday, which might seem just as important as the day she was assumed, or on such powerful solemnities as the Sacred Heart or the Nativity of John the Baptist. So why get ourselves to church just to remember that 2,000 years ago Jesus took his mom to heaven?
As with every mystery regarding the Blessed Mother, it's not ultimately about her. When we celebrate the Immaculate Conception, it's primarily because the Virgin Mary's conception was the beginning of our salvation, the first step in the series of events that would defeat sin and death and open the kingdom of heaven. But all that culminated at Jesus' Ascension into heaven, his return to the Father. After that, wasn't the story over?
The story of our salvation being won was over, yes. It was all accomplished during the Paschal Mystery, during the Passion, Death, Resurrection, and Ascension of Jesus. But Mary's Assumption is a sign that teaches us who we are and what our destiny is now that Christ has won the victory. The Assumption isn't just evidence of God putting everything away when he's done with it, it's a promise of what is to come for each one of us.
You and I will not be assumed bodily into heaven when we die; death (the separation of body and soul) is a consequence of the sin handed down from our first parents, and while death will not have the last word for those who cling to Christ, we must pass through it to the other side. And yet we, like Mary, will one day know what it is to worship eternally before the heavenly throne, bowing in our flesh before the crucified and risen flesh of the Son.
When we pray the Creed each Sunday, professing that we look forward to the resurrection of the dead, this is what we're embracing: the truth that one day, the dead will rise. One day, our purified souls will once again be united to our bodies, glorified this time. We will worship body and soul as we were meant to in the beginning.
Read more:
Why is there a skull beneath my crucifix?
This means that our bodies are no accident. It can be easy to think of ourselves as souls encumbered by bodies here below, imagining that the flesh is evil of itself rather than fallen just as our souls are. In truth, we are a body-soul unity, incarnated souls as much as ensouled bodies. 
But the fact that Jesus and Mary sit enthroned in the flesh proclaims to the world that our bodies are not our enemies, that pleasure is not evil. On the Solemnity of the Assumption, we celebrate the fact that a human body—a woman's body—has been exalted as no other creature has. Our bodies are sacred, made in the image and likeness of God. Our wombs are sacred, our wrinkles are sacred.
As important as these theological truths proclaimed by the Assumption are, perhaps nothing matters quite as profoundly as the image that the doctrine presents us with: Jesus Christ, King of kings and Lord of lords, running to embrace his mother, laughing for joy as he spins her around, taking half a step back to look into her eyes and wipe the tears from her face.
That's what we're looking forward to. That's why we bother with feasts and fasts and Holy Days of Obligation: so that one day, we'll find him running to us just as he ran to her. Mary goes first to show us that it's all worth it, all this striving for holiness in the midst of a world (and a Church) so full of broken, sinful people. We pray and study and serve so that he might make our hearts more like his, so that one day we might be as she is, embraced by the Son in the glory of a body and soul made new. Now that's something worth celebrating.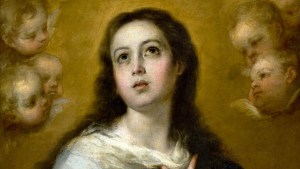 Read more:
Why it's actually a good thing that we know relatively little about Mary