Jess Echeverry's testimony of healing through cards will bring tears to your eyes.
We have all experienced pain and suffering in our lives, but some people seem to have been dealt such a large portion of it that it seems nearly impossible that one person could carry such a heavy burden. Jess Echeverry is one of those people.
Having suffered sexual abuse for the first time at age 10, Echeverry would go on to suffer from abuse, homelessness, abortion, and two suicide attempts by the age of 20. When, at 21, she finally met "the man of her dreams" (who would eventually become her husband), she had already been through more than one lifetime of pain, but her relationship with her future husband opened up a new door for her. That door led her to the Catholic Church.
Now, she shares her testimony of conversion, healing, and forgiveness, in addition to working as the executive director of SOFESA, a California based non-profit that serves homeless and low-income children and families. Wife to a permanent deacon and mother of five kids, Echeverry has found peace in Christ and his Church and wants to share this message to bring healing to many more.
Watch the video below to see her beautiful testimony. (Warning: Her story contains descriptions of abuse and suicide.)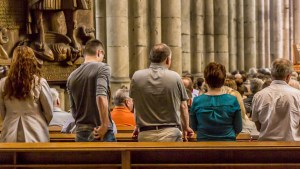 Read more:
5 Kinds of people converting to Catholicism in the US today