You can whip off some of these quick fixes today.
What can God do in your life with one Bible verse a day?
Subscribe to Aleteia's new service and bring Scripture into your morning:
Just one verse each day.
Click to bring God's word to your inbox
Ah, LinkedIn … it's our least favorite social network, but it's also an essential one if you're pounding the pavement looking for a new job.
Have you ever wondered how to make your LinkedIn profile more effective, more polished, more … professional? After all, it's the "first impression" of your professional qualifications in the online world, and your target audience is the recruiter who spends hours each day sifting through profiles in search of the perfect candidate.
Don't be overwhelmed by all of the insanity surrounding LinkedIn. You don't necessarily need to become a top-flight "digital influencer" or "thought leader" to get noticed. There is no need to publish articles on the platform every single day. But you do want to put your best foot forward and show who you are and what you can do – and get rid of anything that could distract or detract from that core message.
So here are five simple tips for improving your LinkedIn profile so that the real you can shine through.
1. Get a professional headshot
I know. It seems like overkill. But statistics show that recruiters spend about 20 percent of their time just looking at photos. Your picture is the gateway to your profile, so you might want to shell out some cash for a decent picture. And like it or not, we are wired for facial recognition, so a good photo can help the recruiter remember you.
If you can't afford a professional photo, you can still do it yourself if you follow these basic tips:
Choose a neutral background, such as white or gray – anything that offers some contrast with your face. Avoid any distracting patterns or other things going on in the background of the photo.
Aim for good lighting, so that your face is fully illuminated and not cast in shadow.
Look like yourself, so that the recruiter will recognize you when you walk in the door for your interview.
It's not Tindr; it's LinkedIn. So make sure your professional photo shows you in appropriate clothing — no cleavage, heavy makeup, or sultry expressions. No sunglasses or beach pics, either.
Don't just crop your own face out of a group photo, with the telltale hand of your best friend on your shoulder and someone's hair and left eyebrow in the bottom left. Let it be just you, in a composed setting.
It's not a mug shot, so you don't have to be squarely facing the camera. Instead, position your body at a slight angle for a softer, more elegant effect.
2. Fill out your skills section — for real
The skills section is down at the bottom of your profile, and it can end up being the forgotten piece whose importance you underestimate. But the fact is that recruiters are looking for specific skills – and they'll also take the people who are attached to those skills. So showcase everything you know how to do, and get recommendations on everything you're good at too!
You can also get objective data on which skills recruiters care about the most. LinkedIn recently published a 2018 list of the top 25 hard skills that employers are looking for in candidates. Almost all of the top hard skills are clustered in the tech field and involve strong engineering and programming abilities, but there are also many opportunities for graphic designers who can represent data visually.
Don't forget to market your top soft skills – and don't underestimate them, either, because 57 percent of surveyed business leaders said they considered soft skills to be the most important. Which ones matter the most? Leadership is at the top of the list, followed by communication, collaboration, and time management.
3. Make sure your profile is searchable for recruiters
A few quick tips: make sure you've clicked the button that says "Let recruiters know you're open." If you've filled in your skills (which I'm sure you absolutely did already), then congratulations – your profile has better SEO (search engine optimization) and will show up closer to the top in recruiters' results.
And it's a social network, so add plenty of contacts – you don't have to be on close, personal terms with them – and aim to get recommendations and endorsements for your work. Both of these steps will also make your profile more visible and searchable for your target audience.
4. Craft a good headline
Most of us just have our current job and company as our headline, but some recruiters suggest making it more specific so that it's more memorable. For example, instead of "software engineer," you could indicate what specific languages you program. Or instead of "marketer," you could specify what kind of marketing you do, so that your niche field is right up front next to your name.
5. Stay up to date
Last but not least, make sure your profile is up to date with your latest job. Check the descriptions of your past jobs and change the present tense to past tense (if you haven't already).
If you've taken additional courses to sharpen and refine your skills, even after college or graduate school, put those up front in your education section. This shows recruiters that you're actively working on keeping your skills fresh, and that you have a mindset of constant improvement.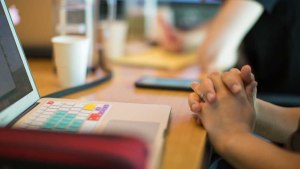 Read more:
4 Powerful prayers to pray before work