This woman decided to do what the saint of Calcutta said: "Give the rich the opportunity to touch the poor."
Need an idea for Lenten almsgiving?
Help us spread faith on the internet. Would you consider donating just $10, so we can continue creating free, uplifting content?
Make a Lenten donation here
Rachel Lapierre has always liked helping others. After managing her own modeling agency and working as a nurse, she wanted to follow her idol, Mother Teresa of Calcutta, and dedicate her life to charity.
The great opportunity to fulfill her dream finally materialized when Lapierre won a million dollars in the Canadian lottery in 2013. She did not hesitate. She knew that for rest of her life, she wanted to do something she loved: help others.
Her story
In the early 1980s, Lapierre had joined a modeling school where she was encouraged to compete in the Miss Quebec beauty pageant, which she eventually won in 1982. "I thought modeling was for tall blondes with blue eyes, and I was short and dark," she shared in an interview for the BBC.
This inspired her to create her own modeling school to help other young women get their foot in the door, until she decided to close the business and dedicate herself to raising her four children.
It was then, as a result of the volunteer work that had been a constant in her life, that she began to venture into nursing and take trips with humanitarian organizations to places like India and Haiti.
The meaning of happiness
After winning the lottery, it took Lapierre two months to quit her nursing job and launch her own charitable organization: Le Book Humanitaire, a non-profit organization that uses social networks to connect people in need with those who can help them.
Some of its projects have included obtaining necessities for refugee families, furnishing apartments for needy people, and collecting toys for children, as well as offering services such as driving a sick patient to a doctor's appointment or finding a home for a homeless mother who has just given birth.
Lapierre says it "doesn't look like a normal business" and it "feeds your soul," in describing why she loves her work, which she's able to do with a team of volunteers.
Her life today is a far cry from the glamorous world of modeling, and she has less money than before hitting her jackpot, but she doesn't care. Living simply by detaching from things and sharing them with others has helped her find true happiness.
For her, happiness is not given by external factors, but comes from within: "I think happiness comes from the heart. It's nice to have a new house, a new car, or whatever, but you do not need them to be happy. When you do something good for others, it fills your heart and your soul. It makes you feel good."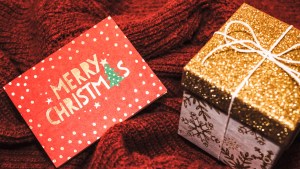 Read more:
What would you do with a million dollar gift card, from God?