It sounds strange, but if it makes your periods of active work more productive, it's worth it!
What can God do in your life with one Bible verse a day?
Subscribe to Aleteia's new service and bring Scripture into your morning:
Just one verse each day.
Click to bring God's word to your inbox
Every five weeks I get a few days off from training. My kids look forward to this break as much as I do, because we always catch up on "fun things" we've been meaning to do, like go to the water park or see a movie.
But my favorite part of this week is bedtime. Without workouts to write or early mornings to prep for, I get to enjoy evenings with the kids. I turn my phone off, put the computer away, and we read books, go for after-dinner swims, listen to music, and go to bed early.
I love these nights. The lack of stress, excess of time, and early bedtimes are an absolute luxury that I cherish. I wake up the next morning refreshed and full of energy, and by the end of the week I'm totally ready to get back to work.
However, that's one week out of five. The other five weeks are short on sleep, short on relaxation, long on work and even longer on electronics. Constant communication, constant connections, text messages from 5 a.m. till midnight — that's the new normal in the world of connectivity. But it's a new normal that's gradually destroying our collective productivity, according to Alex Soojung-Kim Pang, the author of Rest: Why You Get More Done When You Work Less.
Pang and Ariana Huffington co-authored an article on the basics of rest at Thrive Global, in which they explained that properly understood, rest is a whole lot more than just sleep:
1) Take Rest Seriously. Too often we treat rest as merely the absence of work, or something that gets in the way of reaching our goals. In reality, hard work and deliberate rest are partners; each sustains and supports the other. 2) Focus. One way to create space for rest is to structure our daily schedules around unbroken periods of focused work. You can be a lot more productive in a couple of focused hours than in a day full of distractions and notifications. 3) Layer Work and Rest. Super creative people alternate periods of intensive work with periods of deliberate rest. Concentrating hard on a problem tempts their subconscious minds into working on it.
While the school year makes focus easier by breaking my day into periods of active work and periods of time in which I can shift my focus between connections, writing, and resting, summertime is one unbroken chain of distractions and notifications (and only some of those notifications can be silenced by turning the phone off, since children don't come with mute buttons).
But even during the school year, I don't take rest seriously enough. Usually I end my days by struggling to get one more thing done … and the truth is, I almost always go to bed frustrated because my brain is just too tired to work without ceasing. So instead of resting and waking up refreshed, I go to bed late and sleep badly, frustrated by my understandably human limitations.
But the idea that I would work better and accomplish more if I stopped trying to work all the time is honestly an unfamiliar one. Of course it makes sense that I would work better if I were rested, the same way it makes sense that my athletes train better when they recover properly. But what I fail to take into account is that the periods during my day when I'm not working — like, say, when I'm helping kids with homework or doing laundry or making a seventeenth PB&J — aren't actually rest. They might be a break from the work that's always waiting, but they're not periods of active, intentional rest. Therefore they don't count as a break.
I think it will be a struggle for me to build intentional periods of rest into my day. But it won't be any more of a struggle than it is to stay up past midnight trying to finish working on a day when I've been up since 4 a.m. –and if it saves me from that bleary-eyed struggle, it's definitely worth a try.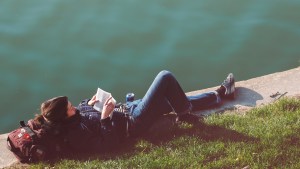 Read more:
How to re-learn the art of resting