Before it spins out of control, here's what you can do ...
What can God do in your life with one Bible verse a day?
Subscribe to Aleteia's new service and bring Scripture into your morning:
Just one verse each day.
Click to bring God's word to your inbox
I had a serious deja-vu moment the other day, when for the billionth time, my toddler was melting down, and steam was starting to come out of my ears. "I have been through this same exact day so many times," I realized. I felt like I was living the plot of Groundhog Day. At this point, this type of day is so familiar that I could predict, with scary accuracy, how the whole day was going to go, right down to when I'm lying in bed wondering what's the matter with me.
I don't have a lot of bad days, actually. I have exactly one bad day — I just have it pretty often. I think this is true for most of us, and it's actually really good news. It means we can use that knowledge to change the trajectory of the day before it eats us alive.
I know life is unpredictable, and you can't get ahead of all your problems. But is there one type of bad day that seems to show up over and over again? Getting that one day all figured out can help you break the cycle.
Okay, so first, what does your most common bad day look like?
Whatever it is, it's going to be characterized by one emotion over all the others. Mine are always saturated with guilt. Yours could be anxiety, anger, frustration, sadness, exhaustion. When you can identify how you always feel before everything starts to go wrong, it's easier not to fall back into the same pattern.
Whatever the emotion is, it didn't show up out of thin air, so you can ask yourself, what triggered that initial emotion? It might be physical, like having low blood sugar, or not enough sleep. It might be something you have no control over like, "I'm drowning in postpartum hormones." It might be a thought or an experience that begins the trajectory. But at least when you know the trigger, you know you'll need to be extra intentional in order to get through the day.
There isn't always an easy solution, but if there is, make a list of what you can do to help yourself out, before the emotion takes over. Making a list feels silly, especially when the solutions aren't rocket science, but this step is actually a big one. Having a list means that when you're already all hot and bothered, you don't have to summon the mental energy to remember what helps. It's like making your coffee the night before, so all you have to do in the morning when you're exhausted is hit the button. You're basically coping with half of the problem ahead of time.
My own list reminds me to eat protein, drink water, and move around. It also includes the names of people to call, text, or visit (because being alone makes all my emotions seem worse). If I don't feel better yet, the next step is to put on a show for the kids, and take a short shower, read a book for 20 minutes, or get my body outside. These things work wonders for me, but I'd never take them seriously if they weren't written down. The list reminds me that I've had this problem before, and I don't have to re-invent the wheel to solve it.
Whether you have an action plan or not, it also helps to figure out what would make the day worse. That's because the coping mechanisms we develop can be really stupid, and even when we know better, it's hard to break the habit.  When I feel lousy, I do what I assume will help, but I'm usually very, very wrong about what helps. When I'm overwhelmed, a quick Facebook break that turns into 45 minutes of mindless scrolling is not as relaxing as it's supposed to be. If I know what doesn't help, at least I can not do that.
Having an action plan for your bad days is a life-hack that usually helps me break out of a bad day before it spins out of control. Everyone's different, so what's your most common bad day? What would your plan look like?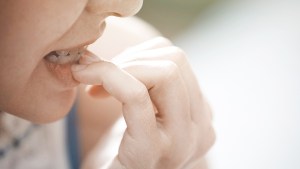 Read more:
The big reason why bad habits are so hard to break