This popular icon has a more complicated meaning that you might have thought.
You've seen it everywhere. What first appeared on protest signs in the late 1950s now adorns fashion, interior decor, and social media posts galore. But where did the peace symbol come from, and who designed it?
Various theories have erupted over what the symbol actually represents, but now you can rest easy knowing the answers are just a few seconds away. Here's a history of the peace symbol in 7 quick facts:
The peace symbol first appeared at a protest against nuclear weapons in 1958 in Trafalgar Square in London.
The peace symbol was created by designer Gerald Holtom, who developed the symbol for the 1958 protest especially.
The design comes from a combination of the letters "N" and "D" in the semaphore alphabet, the code used by sailors to communicate messages from a distance. "N" and "D" stood for "nuclear disarmament".
Ask Ss to use the semaphore alphabet to spell answers to questions. Lots of crossing of the midline. #brainboostpic.twitter.com/7jHtkQKazI

— Andrew Milne (@carmelhealth) November 11, 2015
4. But Holtom also intended the image to evoke "an individual in despair, with hands palm outstretched outwards and downwards."
5. Likely brought over by Bayard Rustin, who attended the 1958 march in London, the peace symbol first appeared in the United States in the name of the civil rights movement.
6. In the 1960s, the peace symbol found its true fame as a representative of the anti-war protests.
7. In 1969, the John Birch Society published an article decrying the peace symbol. Their false claim that the symbol was satanic received such popularity that this misconception still continues today.
The peace symbol has become so widely used that many have forgotten where it originated and what inspired it, but knowing the origins of these popular symbols cast them in a new light and inspire a deeper consideration of them.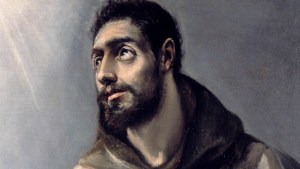 Read more:
This popular prayer for peace can transform a person's heart