Undertaking a corporal work of mercy.
In northern Nevada, when someone dies with no one to claim their remains, the practice has long been to cremate the body and place the ashes in storage. Unfortunately, these remains are often forgotten completely and left ignored for decades. Now, however, the remains of 1,079 people will be permanently laid to rest thanks to a work of mercy.
KTVN news reports a group of workers from Our Mother of Sorrows Catholic Cemetery, in Washoe County, have begun an effort to bury all of the former Nevada residents who have been awaiting a proper funeral. The workers have brought with them an air of humility and approach the task with the assurity of vocation. Cemetery Operations Manager Christine Luna commented, "Our job is to bury the dead. It's not just a job."
Luna continued:
"We do have a serious problem here. We do need, as a community, to come together and make sure that these remains are treated with dignity and placed with dignity. We will be developing a small area next to our entrance where they will be placed in-ground, with an above-ground monument."
Their dream of a monument will come with a price tag and until they are able to raise the neccessary funds, they will place groups of 200 small ash-filled boxes in crypts.
They have requested donations from members of their community, but will also welcome help from anyone who wishes to take part in this work of mercy. For all those interested, here is their contact information.
Our Lady of Sorrows Catholic Cemetery has organized a service, in which they will read all 1,079 names of the deceased. The event, "The Calling of the Angels", will take place on Saturday, July 21, at noon. All are welcome to attend.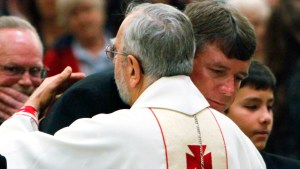 Read more:
"Month's Mind Mass": Honoring the departed a month later