And why the reality of these relics highlight a fundamental spiritual truth.
What can God do in your life with one Bible verse a day?
Subscribe to Aleteia's new service and bring Scripture into your morning:
Just one verse each day.
Click to bring God's word to your inbox
After the Edict of Milan, interest in Christianity surged within the Roman Empire and St. Helena was among those who wanted to know more about the religion.
She decided to go straight to the source and set out on a pilgrimage to the Holy Land with the support of her son, Emperor Constantine. There she assembled all the local elders and asked for their help in locating various relics associated with Jesus Christ.
According to one story, there were a handful of Jews who knew where the true cross was hidden and had passed down that information amongst themselves over the centuries. One such Jew, named Judas, felt compelled to tell St. Helena where the relics of the true cross were buried.
They excavated the site and found three crosses; one was believed to be the true cross and the other two were from the thieves crucified on either side of Jesus.
In addition to the cross of Christ, it is also believed that St. Helena found the "title of the cross," upon which was inscribed, "Jesus the Nazarene, King of the Jews." She also reportedly discovered the nails of the true cross that were driven into the hands and feet of Jesus.
Besides the cross, title and nails, tradition claims she found the crown of thorns that was placed upon the head of Jesus during his passion and his tunic that was stripped from his body.
Not only that, Helena is the one who brought from Jerusalem to Rome the "holy stairs" which led to the palace of Pontius Pilate.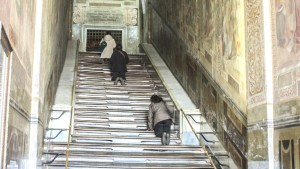 Read more:
The Holy Stairs that Jesus climbed to reopen in a year
Outside of these relics associated with the passion of Jesus, Helena is also credited with bringing back relics of the "holy crib" and even some hay from the manger where Jesus was laid when he was born.
If St. Helena did indeed find all of these relics, it was certainly not through her own power and would have been a great miracle of God. Most of these relics are discredited by historians, but even if she didn't find any, they still point to the historical reality.
Jesus was crucified on a cross with nails and a crown of thorns. His tunic was stripped from his body and he had to ascend certain steps to reach Pontius Pilate's palace.
The Virgin Mary gave birth to Jesus and placed him in a manger, likely with some hay to support him.
All of these objects were real and existed in history.
Therefore when we visit the shrines dedicated to these relics, we are reminded of a fundamental spiritual truth: Jesus Christ walked this earth, died for our sins and reigns forever in heaven.
He is not a "myth," or a "legend," but a real person who loves us dearly and desires to be with us for all eternity.
St. Helena may not have found all of these relics, but in searching for them, she understood the reality of Jesus and wanted to remind others of this beautiful fact.
Read more:
Catholic Mythbusters: Could a large ship really be built from all the relics of the True Cross?