Everyone knows it's one of the most beautiful places on earth; it's also a place to renew your faith in God and the Church ...
What can God do in your life with one Bible verse a day?
Subscribe to Aleteia's new service and bring Scripture into your morning:
Just one verse each day.
Click to bring God's word to your inbox
Pope Francis will soon be visiting Ireland for the World Meeting of Families. Many people dream of the day they can make such a visit, and as a recent visitor myself, I promise you that a trip to the Emerald Isle will not disappoint. In fact, it will far exceed your expectations.
From a Catholic perspective, here are five reasons you should plan a visit sometime in your life (or sometime soon):
1. Ireland is a land of saints
During your trip to Ireland be sure to investigate the many saints who have graced the island for centuries. It's a place that was evangelized by some of the greatest evangelists, like St. Patrick and St. Columban. Many counties in Ireland have saints local to their area, like County Meath and St. Oliver Plunkett or Wicklow County and St. Kevin.
During my trip, I missed visiting the grave of Venerable Matt Talbot, a two minute walk from where we ate in Dublin. Don't make that mistake, and be sure to look into other saints like St. Bridget or St. Brendan, and visit the sites important in the lives of these holy men and women.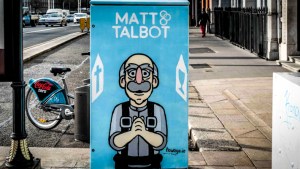 Read more:
He was a drunk. And now he's on the path to sainthood. Meet Matt Talbot
2. Mary appeared there
Have you been a pilgrim to Guadalupe, Lourdes, or Fatima? Why not add another place where Mary has graced the world with her presence? Mary appeared on August 21, 1879 in Knock, Ireland. It's an apparition unique from many others as Mary did not appear to just one person or a few individuals. There are 15 official witnesses to the phenomena. Mary appeared above a gable wall and this was seen by many of the villagers. And unlike other apparitions, it just wasn't Mary. In Knock, St. Joseph, St. John and the Lamb on the altar appeared as well. Also unique, while in many places Mary speaks a message, the Knock apparition was silent, no words were spoken.
When visiting Ireland be sure to visit Knock, and sit in silence, remaining with our Lord, his Mother, and the communion of saints.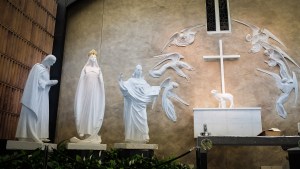 Read more:
Who is Our Lady of Knock? The silent apparition
3. Rich in monastic history
How familiar are you with monasticism? If you have read Thomas Merton, you know a little bit about the Trappists. Other monastic orders include the Benedictines and Cistercians. Ireland is a place rich with monastic history.
In Glendalough, one of the early forms of monasticism came to life under St. Kevin. A little monastic village emerged. In the 1100s, the Cistercians entered Ireland with their foundation at Mellifont Abbey. From Mellifont, 38 other monasteries were founded.
Unfortunately, with the suppression of Catholicism, monasteries were abandoned, and today the ruins of said monasteries still bear witness to the life of Catholicism in Ireland. While traveling around the country, be on the look out for the monasteries, pull over and visit, and try to envision the land in its glory days when the praises of God were sung in that place.
Read more:
Exclusive Photos: The Last Hermit of Ireland
4. A place of pilgrimage
Ireland is a place of pilgrimage because of the many holy men and women who've walked that land. Throughout the history of Catholicism and in many places people have made pilgrimage by foot, walking from destination to destination. The most famous example of this would be El Camino de Santiago in Spain.
As well, one can walk the way of the Irish saints. One such example is the Way of Patrick, which will lead one up Croagh Patrick, the reported place where St. Patrick fasted and drove out the snakes from Ireland. One can also walk the Wicklow Way. Some people begin in Kildare where St. Bridget lived and walk to the monastic center of Glendalough.
Read more:
Exclusive photos: A pilgrimage to Ireland's miraculous Ladywell Shrine
5. It's beautiful!
God created the heavens and earth. The magnificent sceneries one takes in throughout life are all the result of our Creator God. Many picturesque scenes can been seen on the Emerald Island. See the breathtaking views at the Cliffs of Moher. Take in the beautiful countryside. And when you do, you will come to appreciate the beauty of the earth created by our God.
If you haven't visited Ireland, try to find a way to go. I'm sure I'll return.
Read more:
Bird-Watching and the Breathtaking Personalism of God