In 1964 Pope Paul VI abandoned the tradition of wearing an ornate, bejeweled crown.
Beginning in the 8th century, the papal tiara — a jewel-encrusted, ornately decorated three-tiered, conical crown — was the symbol of papal authority. Worn by new popes on the occasion of their coronations and other solemn occasions, the headdress represented the Bishop of Rome's ascendancy over earthly kings and queens.
On November 13, 1964, Pope Paul VI, breaking with tradition, donated his jewel-covered gold and silver three-tired tiara to the poor at a ceremony at St. Peter's Basilica, making him the last pope to wear the ceremonial crown.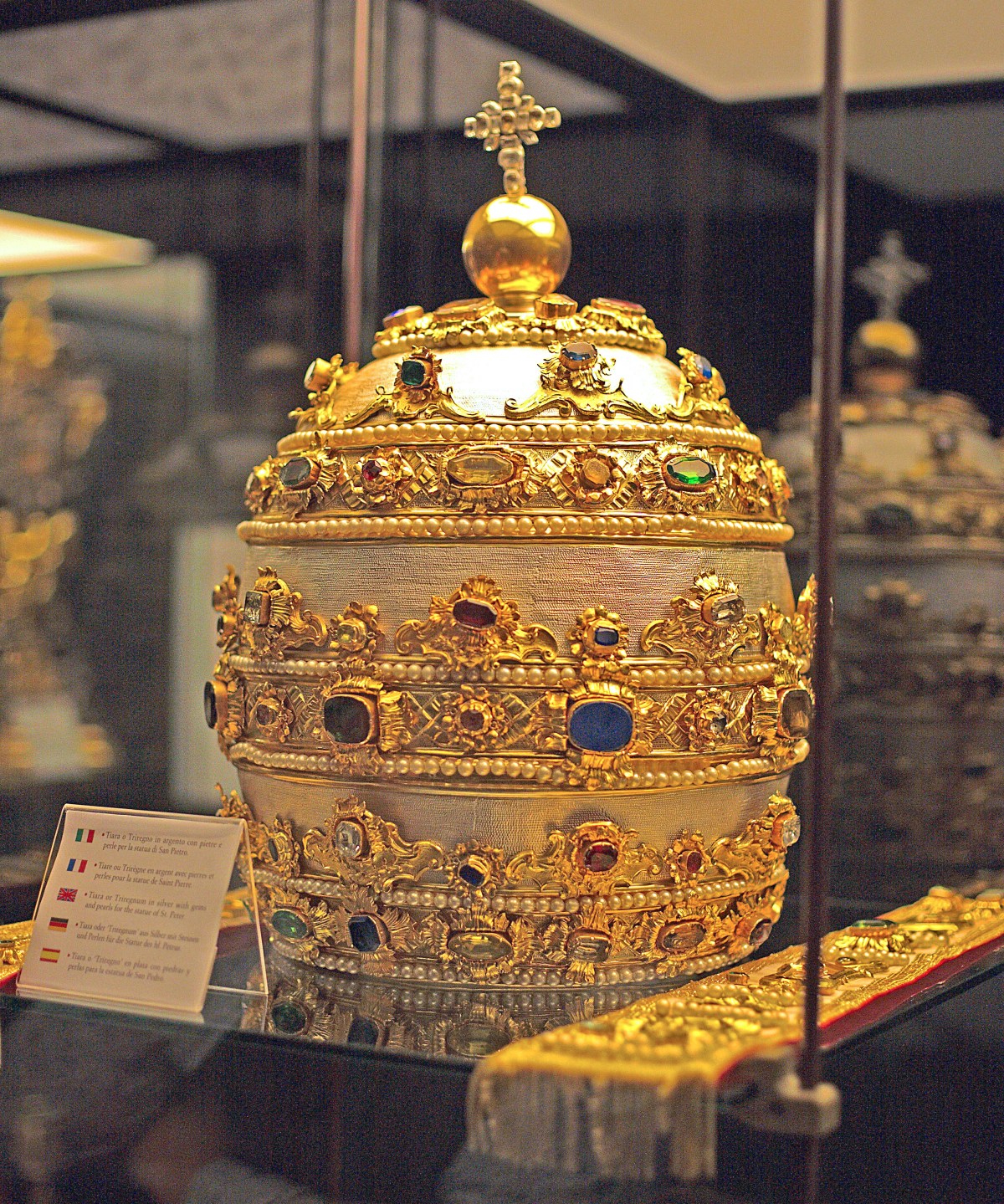 Launch the slideshow
Following a Mass, attended by 2,000 bishops, the pope rose from his chair and solemnly placed his tiara on the altar. According to news accounts at the time, Pope Paul VI was said to have been moved to make the gesture by discussions of world poverty during meetings of the Ecumenical Council Vatican II.
After the announcement that the papal tiara would be sold at auction, Cardinal Francis Spellman of New York City arranged for the tiara to come to the United States, as a gift acknowledging the generous contributions by American Catholics to helping the world's destitute.
Following a tour accross the country as part of an exhibition put on by Catholic Relief Services, the crown went to its permanent home where it is now on display in the Basilica of the National Shrine of the Immaculate Conception in Washington, DC.
Since Paul VI gave up the tiara, none of his four successors have worn one. Pope Benedict XVI, in fact, had the image of the tiara removed from the papal coat of arms, substituting it with a more humble bishop's miter.
In 1978 Pope John Paul I went a step further, and replaced the coronation ceremony with a Mass for the inauguration of the pope, a tradition that Popes John Paul II, Benedict XVII and Francis continued.
In his homily marking his inauguration ceremony, Pope John Paul II recalled his predecessor's abandonment of the tiara and his wish to follow suit:
"Pope John Paul I, whose memory is so vivid in our hearts, did not wish to have the tiara; nor does his successor wish it today. This is not the time to return to a ceremony and an object considered, wrongly, to be a symbol of the temporal power of the popes."