The newly elected pontiff traveled to Ireland and spoke profound words of peace that changed lives.
Throughout the 20th century, Ireland experienced a great deal of unrest as the island was divided into "Northern" Ireland (a part of Great Britain, and predominantly Protestant) and "Southern" Ireland (the independent Republic of Ireland, predominantly Catholic). Many desired a unified country and tried to accomplish their goal through military violence. Tensions continued to build until the "Troubles" began in the 1970s.
Bombings, murders and continued violence rocked the nation.
Then John Paul II was elected pope on October 22, 1978, and chose, for his third apostolic visit, Dublin. He came September 29 – October 1, 1979, marking the first time a pope visited Ireland in its entire history.
It proved to be a monumental moment for Ireland and was timed perfectly. About one third of the entire population turned out to see John Paul II and he sowed words of peace that eventually bore much fruit. John Paul II spoke powerfully to the Irish people, exhorting them to end the violence.
Now I wish to speak to all men and women engaged in violence. I appeal to you, in language of passionate pleading. On my knees I beg you to turn away from the paths of violence and to return to the ways of peace. You may claim to seek justice. I too believe in justice and seek justice. But violence only delays the day of justice. Violence destroys the work of justice. Further violence in Ireland will only drag down to ruin the land you claim to love and the values you claim to cherish. In the name of God I beg you: return to Christ, who died so that men might live in forgiveness and peace. He is waiting for you, longing for each one of you to come to him so that he may say to each of you: your sins are forgiven; go in peace.
According to Carl Anderson, executive producer of a new documentary, John Paul II in Ireland: A Plea for Peace, "When John Paul II arrived in Ireland, he confronted a giant tree of hate and terrorism that had been growing for a very long time. At Drogheda, he took an ax and cut at its roots. It would take some time for this poisonous tree to begin to wither, but eventually it would."
Anderson worked with Emmy award-winning filmmaker David Naglieri to recount the peace process in Ireland, highlighting the vital role John Paul II played in it. The documentary is narrated by Jim Caviezel (The Passion of Christ, The Count of Monte Cristo), with original music by composer Joe Kraemer (Mission Impossible: Rogue Nation, Jack Reacher).
One of the most moving moments during John Paul II's visit was his simple words to the Irish youth: "Young people of Ireland, I love you." He received a standing ovation and could barely finish his talk.
While the conflict did not end for a few more decades, shortly after John Paul II's visit talks began to work towards peace. His words touched the Irish people and the seeds of peace he sowed, bore fruit.
Pope Francis will become the second pope to visit Ireland when he visits the World Meeting of Families in Dublin. The theme of his visit will focus on the family, lifting it up as a great treasure to protect in society.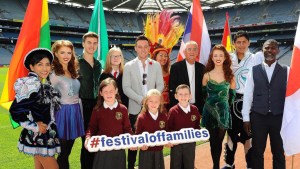 Read more:
Here's what you need to know about the World Meeting of Families in Ireland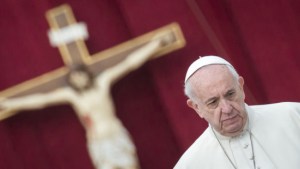 Read more:
Pope Francis will meet victims of sexual abuse in Ireland