There are only two real obstacles to happiness in your relationship ... and the solution is, well, simple.
After years of doing marriage preparation and marriage retreats, my wife and I have found, much to our surprise, that we are still not perfect. We still struggle.
So we have developed the Ultimate Marriage Advice, the advice that, if you follow it, will make your marriage 100 times better and, if you don't follow it, will make your life miserable.
The fact is, there are only two major obstacles to marital happiness, and that you can overcome them with two simple practices.
The two obstacles to marital happiness are you and your spouse.
You are an obstacle to your happiness because you are self-centered and egotistical. You look out for your own concerns, except for the times you help others, and then you feel proud of yourself for being wonderful, and that pride becomes a problem, blinding you to issues you should be addressing.
Your spouse is an obstacle because your spouse is self-centered and egotistical. Your spouse often expects to be served instead of serving you, except when they do and become too proud.
We are each an obstacle because we constantly disappoint our spouse. We forget what we should remember, and think we should be forgiven that oversight. But when our spouse forgets what they should remember, we feel hurt and angry and justified in our rage.
To overcome the first obstacle to your marriage, you, you have to start planning charity.
Since your pride and self-centeredness hurts your marriage, it's obvious: You can only help your marriage by being more loving.
Of course that is more easily said than done, but it's important to recognize that even a real attempt to be more charitable actually makes you more charitable.
But it has to be a real attempt: That means it has to be planned.
First: Plan daily prayer for (and, if possible, with!) your spouse. Do your morning offering together, or your night prayers. Pray the Rosary. Meet up for a visit to the tabernacle or Mass. The transformative effect of inviting God into your relationship will be huge.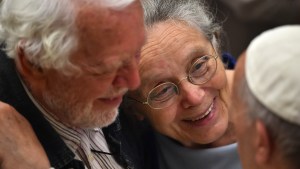 Read more:
Pope reveals most important virtue for marriage
Second: Plan to do a good deed for your spouse every day.
Gary Chapman's Five Love Languages book is a great tool for finding which way your  spouse most feels loved. But I try to cheat the book a little and plan a different form of love for each weekday. For instance: I find something to give words of affirmation about on Monday, I do an act of service on Tuesday, I rub her feet on Wednesday, bring flowers or another gift on Thursday, and plan quality time on Friday.
To overcome the obstacle that is your spouse, you need to make mercy a rule.
The truth is, your spouse will do more kind and loving things for you than anyone else in your life — but your spouse will also offend you, in small ways or large, more than anyone else in your life. Your spouse will say things that hurt you more than anyone else ever will.
That is why you need to be forgiving – truly forgiving. You need to make forgiveness mandatory.
I should note that there are truly abusive situations that you need to get away from and not merely tolerate and forgive  — but marriages have severe, even life-altering, disappointments that fall short of abuse. It's these I'm talking about.
Early on in our marriage, we decided to make mercy very practical. We made it a rule.
When one of becomes conscious of hurting the other, it is that person's duty to say, "I'm sorry." When an "I'm sorry" has been spoken, it is the duty of the other spouse to say, "I forgive you."
Once forgiven, the matter is over and done with and cannot be argued about again.
Over the years we have come up with two corollaries to our Mercy Rule.
The first is that the person who says "I'm sorry" doesn't have to sound sorry, and the person saying "I forgive you" doesn't have to sound forgiving.
It often happens that consciousness of wrongdoing comes at the end of a hard-fought argument, and when it does dawn on one person that they were wrong, it can be impossible to muster an apologetic emotion along with the admission of guilt.
A second corollary is one that took decades to learn. I saw the sentiment expressed in a quote at one point and made it a rule, too: "The key to happiness is the ability to forgive people who can't say 'I'm sorry.'"
That is absolutely true. It's physiologically true, for starters. People who hold on to grudges increase their stress. But it's also true in married relationships where, for better or worse, our imperfections include our inability to properly see some of what we are doing to others. Too bad. You have to let it go anyway.
So there it is, the Ultimate Marriage advice.
I know it is simple, but it does work. I know it is difficult, also.
But I also know that it is easier than you think. The sacrament of marriage guarantees you graces that, if you ask for them, always help.
Read more:
What to do if you don't feel like doing your resolutions