As real as online friendships can be, flesh-and-blood company is really important.
What can God do in your life with one Bible verse a day?
Subscribe to Aleteia's new service and bring Scripture into your morning:
Just one verse each day.
Click to bring God's word to your inbox
Motherhood is isolating, and as convenient and real as online friendships can be, flesh-and-blood company is very important — especially the company of other mothers, who understand your challenges and joys better than anyone. Luckily for us, the internet is offering us more and more ways to find our real-life tribe. These six apps are a good start:
Peanut
, (and
Mush
, if you live in the UK or Australia)
These are built like a lot of dating apps — set up a profile, and look for mothers who share important common ground with you. If you're looking for a friendship that is built on more than your mutual motherhood, well, you're not alone — Peanut has grown to over 300,000 users in the year since it's been launched, and Mush is growing fast, too.
This app streamlines what a lot of moms already do in their local Facebook groups. Instead of posting, "Hey, does anyone want to meet up at the park this afternoon?" and spending the next 45 minutes trying to suss out the details with a bunch of people you may or may not know, you can post (either publicly, to the moms in the immediate area, or to a private group you already know) where you're going to be, and when. If you need to get out of the house, and want some company, you can browse posts and see where other local moms are, and what they're up to.
It promises to help you find "local mamas with similar interests, schedules, families, challenges, and personalities." That's a tall order, but the algorithms do a lot of the work for you. In addition to helping you meet likely friends and set up playdates, it also has an online forum for those days when you know you're not going to manage to leave the house.
While not mom-specific, it's for making local friendships, and that's kind of nice. You could certainly use the app to meet other moms, but who says mothers only want to be friends with other mothers? It's built on the premise that "It only takes one friend to change our entire lives," and I find myself nodding in agreement, and thinking of the friends that my life would be unrecognizable without.
This app facilitates local friendships and meet-ups, and emphasizes finding moms whose kids are the same age as yours. It also makes plenty of space for local events and even great deals to keep things interesting. It also includes an online network of moms to ask questions, vent to, and share your thoughts with.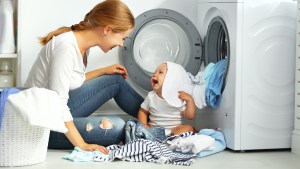 Read more:
8 Realities of motherhood all future moms should know