Psychologists have found that refraining from negative behavior in times of stress is better for your relationship than showing positive behavior.
Need an idea for Lenten almsgiving?
Help us spread faith on the internet. Would you consider donating just $10, so we can continue creating free, uplifting content?
Make a Lenten donation here
My parents have a fundamental rule that they set early in their marriage: they don't fight in front of their kids. They might disagree, debate, or even get noticeably frustrated with each other, but they never let that break down into a fight while we are in the room.
For a while (in my 20s when I knew absolutely everything), I thought that was a pointless, if not destructive, way to raise us. Because we had never seen our parents fight, I believed that we were ill prepared for the reality of marriage. I actually thought they had done us a disservice by not shouting at each other in front of us — I mean, how else were we supposed to learn that married people argue, get angry, and shout? And that they figure out a way through it and stick together anyway?
Now that I'm in my 30s, I am aware that I know absolutely nothing. For example, I didn't fully understand until now that my parents don't just have a rule about the way they treat each other in front of us kids that doesn't apply once we're out the door. They don't wait until the coast is clear and then let the shouting match commence — they simply don't shout at each other. They disagree, they sometimes argue, they get tense and short-tempered, but they keep those emotions on a tight leash and prevent them from boiling over into a knock-down-drag-out-fight. They don't treat each other badly, no matter how they feel. And that's not an attempt to put up some Leave-it-to-Beaver false front for us about what it's like to be married … what they were (and still are) doing was modeling for us the way we should treat people — all people, but especially our future spouses.
As it turns out, my parents were way ahead of their time. Thrive Global reports that psychologists are starting to find that when it comes to relationships, not treating each other badly is more important than positive actions:
Published in Journal of Family Psychology, Keith Sanford, a professor of psychology and neuroscience, and doctoral candidate Alannah Shelby Rivers came to an important conclusion after studying over 400 married or cohabiting couples: Refraining from negative emotions during times of stress is better for your relationship than showing positive behavior. As Sanford says, "When people face stressful life events, they are especially sensitive to negative behavior in their relationships, such as when a partner seems to be argumentative, overly emotional, withdrawn or fails to do something that was expected. In contrast, they're less sensitive to positive behavior — such as giving each other comfort …" We have evolved to notice outliers in our environment. Seeing your neighbors walk down the street (hopefully) inspires calm and comfort. A stranger running at top speed while staring behind them sets off a trigger. Your fight-flight-freeze system is initiated. This is effectively what happens when your partner is being overly critical or outright mean to you. While romantic little gestures are sweet, they simply don't have the staying power to imprint in your consciousness the way negative behaviors do.
It all seems so obvious when it's laid out like this — we all remember harsh words in vivid, sometimes excruciating detail, while kind words and compliments tend to run through our memories like water. Of course the most effective way to protect a marriage would be protect each other from experiencing hostility and letting that pain be subconsciously woven into the fabric of the marriage. Disagreements are one thing — even arguments are sometimes unavoidable. But fighting, withdrawing, or engaging in any kind of behavior intended to emotionally wound your spouse is like sabotaging your relationship. Flowers and jewelry — or a new TV and a homecooked meal — can't heal those hurts or erase the imprint left by negative behavior.
I genuinely wonder how I could have thought that my parents went through life saving up all the fighting words they had to say until after we were all tucked into bed. Aside from the fact that it's ludicrous, I should have realized that way my parents treat each other is very similar to the way they treat us, and their siblings, parents, and friends. They do their absolute best not to let their emotions get away from them so they won't lash out in anger, because they knew at 20 what it took me a solid decade longer to learn — words can't be undone. Actions can't be erased. And forgiveness doesn't erase the pain or undo the damage a moment of anger can cause. So the best way to protect your marriage, or any relationship, is to begin and end with restraint.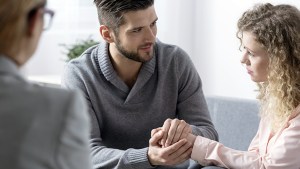 Read more:
3 Signs your marriage is in trouble … or is it?