Here's a creative way for parents to help their children be prepared if a bully strikes.
If you — or your daughter — have ever encountered a "mean girl," (or mean boy for that matter), you know the exquisite pain of being targeted by a bully. Bullies rarely have accurate information about their prey, relying instead on whatever will provoke a reaction so that they can maintain power and privilege.
Even some celebrities, with seemingly charmed lives, know this pain. Oscar-winning actress Kate Winslet told Billy Bush on The TODAY Show that she was bullied by schoolmates as a teen. "I was kind of bullied when I was younger, actually at school," she explained. "For being chubby, you know, I had girls who were envious of me because I was acting a little bit as a teenager." Of course, we all wish bullying (which takes on so many different forms) would simply stop — but it's not as simple as sitting a child down and having a serious talk about vulnerability and the Golden Rule.
I know, because I had one child who was bullied, and another child who bullied someone. Both of them were raised in the same household, with the same values, and the same discussions about respecting others regardless of their appearance and behavior (unless, of course, that behavior was dangerous, in which case these children were told to tell an adult).
That's because bullying isn't about good or bad parenting. It's about peer groups and their enormous power on adolescents who are trying to form their own identities. The only way to steer young people through either situation — being bullied, or bullying someone else — is to keep listening to them, and to keep reminding them that they don't have to follow a group. They don't have to take in what bullies say, and they don't have to say things that are unkind just because their friends do.
Bullying expert Dr. Joel Haber addresses "mean girl bullying," like the kind Kate Winslet says she experienced, on his blog. He writes that dealing with bullying directly is very important. "Ask the question, 'Is there some reason you are angry at me?,'" says Haber. But he notes that girls often won't talk directly with one another, even if they know the right talking points, so teaching them how to be direct is a first step. "Don't enter the drama," he writes. "The best thing to do is let it be, walk away."
Here is where parents can help. Try to help your daughters create multiple friendship groups, so that if one becomes enmeshed in a "girl war," they can turn to another crowd. Diversifying friend groups means that your kid will always have a friendly face in the cafeteria, even when a mean girl is on the warpath.
And since today's bullying isn't just face-to-face, but increasingly involves online groups and social media, educate children about the right and wrong way to use those tools. While this may not protect them from all mistakes, if they know you're cognizant of digital bullying, they may feel more comfortable coming to you with problems. You can remind them, too, that bullies are rarely right. They certainly weren't correct in the case of Kate Winslet. Now hugely successful, she says, "This is my revenge. This right here, this lovely career I have been blessed with. I have healthy children. You know, I have a really happy life and, to me, it's like, 'Well, look at me now, girls!'"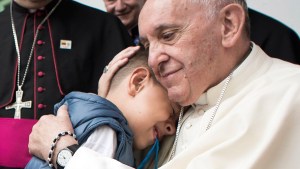 Read more:
10 Wise words from Pope Francis about bullying