Mindful of today's feast, and after two intense days at the World Meeting of Families, he prays with one of the Church's most famous mom-saints
Pope Francis landed in Rome late Sunday evening after his intense two-day trip to Ireland.
This morning, as is his custom, he went to visit the Basilica of Saint Mary Major, which has the icon of Our Lady Salus Populi Romani, or Help of the Roman People, and left her flowers. This is the way he concludes his apostolic trips, of which Ireland was the 24th outside Italy.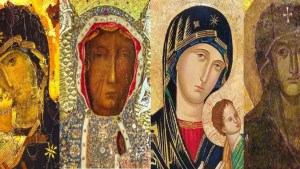 Read more:
4 Icons of Mary attributed to St. Luke the Evangelist
But before returning to the Vatican, Pope Francis stopped in to see another holy mother, the woman the Church celebrates today with a feast day: St. Monica, mother of St. Augustine.
The Church of St. Augustine is located just off of Piazza Navona and in a side chapel located to the left of the main altar, St. Monica is buried.
Pope Francis paused there for several moments of personal prayer.
Read more:
Saint Monica: A 4th Century Supermom who had her Priorities Straight