And, no, working on a smartphone or laptop doesn't count.
What can God do in your life with one Bible verse a day?
Subscribe to Aleteia's new service and bring Scripture into your morning:
Just one verse each day.
Click to bring God's word to your inbox
Two hours ago, I had a horrible case of the Mondays.
This morning I trained my early camp, came home to get the kids ready for school, then took my son Lincoln to his first day of kindergarten. When I got back I made breakfast, cleaned the kitchen, and then turned my attention to work … but I was tired. So tired. I went to bed late last night and my whole body is feeling the effects of it as well as the environment change of a sudden rainstorm and the ensuing allergens. Trying to compose an email was like trying to slog through mud … my brain just did not want to do it.
Normally I try and push through that kind of exhaustion, since it's part of life and work doesn't stop just because I want it to. But I must have been extra tired today, because I closed the laptop and turned instead to the laundry basket overloaded with clean, unfolded clothes. At that moment, folding laundry seemed like a blessed refuge from all other kinds of work.
It's kind of ironic, because normally folding and putting away laundry is a task I loathe. It takes a lot of time, must be done while sitting, and generally tends to short-circuit my get-up-and-go for the day. But today I was deeply grateful for the neglected laundry for giving me a task that could be done slowly while sitting … and deeply surprised to find that when the laundry was folded and put away, I felt energized and refreshed.
CBS recently aired a segment on how working with our hands is actually vital for our brains to stay healthy, and how alarmingly neglected this aspect of human life is in contemporary American life:
"I made up this term called 'behaviorceuticals,' instead of pharmaceuticals, in the sense that when we move and when we engage in activities, we change the neurochemistry of our brain in ways that a drug can change the neurochemistry of our brain," said Kelly Lambert, a neuroscientist at the University of Richmond. She says our brains have evolved to reward us for getting a grip on the world. Which is why, Lambert said, in the 19th century doctors used to prescribe knitting to women who were overwrought with anxiety, "because they sensed that it calmed them down some. And it sounds, 'Oh, that's simplistic.' But when you think about, OK, repetitive movement is increasing certain neurochemicals. And then if you produce something – a hat or a scarf – there's the reward."  
[protected-iframe id="30ee15736d9013ca009916760910a257-95521100-119536711″ info="https://www.cbsnews.com/video/busy-hands-and-our-brains/" width="620″ height="349″ frameborder="0″]
I'm familiar with the neurochemical benefit to exercise — isn't everyone? — and the lesser-known neurochemical boost from writing. Writing has the same type of reward as making a hat or scarf, because it's something you've created. But writing is significantly more intellectually intense than folding laundry, even if that intensity generates its own type of neurochemical benefit.
But the neurochemical rewards to folding laundry have proven elusive … at least until today. I don't know if I just desperately needed the break (both physically and mentally) that 20 minutes of folding clothes provided, or if the pleasure of putting the clothes neatly in drawers and the empty basket back in the laundry room was enough of a boost to get me over my case of the Mondays, but either way, it worked. And while I doubt folding laundry will ever be my favorite thing to do, it already seems significantly less dreadful than it did two hours ago.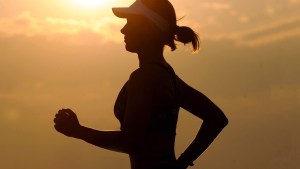 Read more:
Why exercise is one of the best things you can do for your family